WATCH: LeBron James Coaches Lakers, Encourages Them to Play Lockdown Defense Against Hornets
Published 04/14/2021, 6:00 AM EDT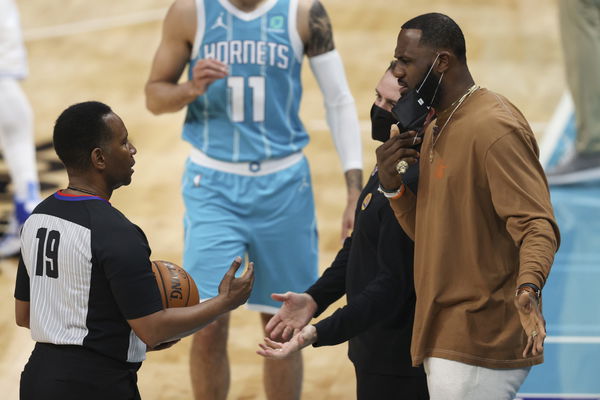 ---
---
LeBron James is one of the greatest basketball minds in NBA history. The four-time MVP has been in the NBA for nearly two decades and has played at the highest level possible. Several stars have come and gone, but James continues to excel, even in this late stage.
ADVERTISEMENT
Article continues below this ad
Despite not being able to play right now, James has been a key figure for the Lakers off the court with the advice and encouragement he brings.
King James becomes Coach James
ADVERTISEMENT
Article continues below this ad
Los Angeles Lakers star LeBron James was seen courtside during their game against the Charlotte Hornets. He was actively telling players on the court how to defend and was very vocal throughout. James was coaching the Lakers alongside head coach Frank Vogel, giving them advice on how to guard the Hornets. It was a great display of his leadership and basketball acumen.
During his prime, LeBron James was an excellent defender. Between 2009 to 2013, James made the All-Defensive first team with his incredible hustle on the defensive end. One of the most important plays of James' career was a defensive block he made on Andre Iguodala in the 2016 NBA Finals. That block was pivotal for the Cavaliers beating the Warriors in game seven and winning the NBA championship.
While James is no longer the elite defender he once was, he still shows moments of defensive brilliance. His basketball IQ still allows him to make smart defensive plays wherever possible. Against the Hornets, James was using this IQ to help guide the Lakers on the defensive end.
LeBron James is an elite leader
ADVERTISEMENT
Article continues below this ad
Moments like these are a great example of LeBron James' leadership. James is one of the greatest leaders in NBA history. Throughout his career, James has exhibited great leadership and found success because of it. Whether it be the Heat, Cavaliers, or the Lakers, James' leadership has allowed these teams to reach the pinnacle of the NBA.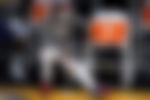 ADVERTISEMENT
Article continues below this ad
Can LeBron James become a great coach one day? In his current role, he takes on the role of coach from time to time. However, James may not be interested in coaching. James has expressed his desire to become an NBA team owner after retiring. And after him becoming a member of Fenway Sports Group, that could become a reality in the future.