WATCH: LeBron James' Crazy Angry Moments and On-Court Fights
Published 01/12/2021, 5:00 AM EST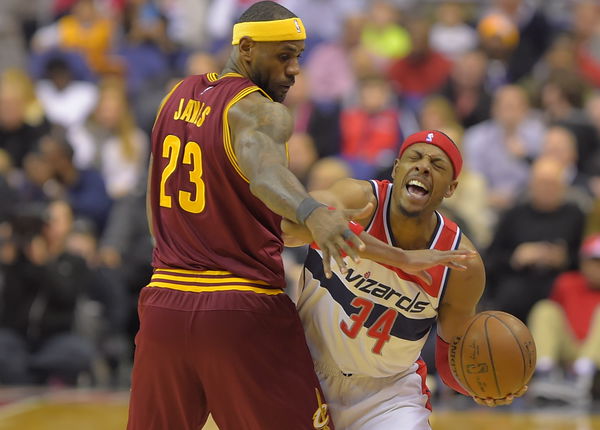 ---
---
LeBron James is in the 18th year of his career and has enjoyed a spotless time in the league, and this one reason his sponsors love him. The basketball fraternity does not know him for picking dirty fights. Bron could roar like a wild grizzly bear on the court but never really throw himself unnecessarily into a brawl. 
ADVERTISEMENT
Article continues below this ad
Still, having played for so many years, he has had his heated moments. During those years with the Cavs where he was the leader, many such instances kept popping. Take a look at some of Bron's most memorable on-court fights.
LeBron James' composure put to the test
ADVERTISEMENT
Article continues below this ad
It was during the 2013 NBA playoffs that the Miami Heat met the Chicago Bulls. The series was tied 1-1 and Game 3 witnessed a tussle between LeBron James and Nazr Mohammed. Bron was guarding Nazr when he seemed to have shoved Nazr to the side. This frustrated the 6′ 10″ tall player, and he retaliated by pushing King James down on the floor. This could've turned into a nasty brawl, but things were kept under control. 
The L-train vs Enes Kanter
This moment is from a more recent memory when the Cavs faced the New York Knicks. LeBron made an easy bucket and ran into rookie Frank Ntilikina. A little back-and-forth pushing ensued which made center Enes Kanter lose his cool. Kanter was all up in LeBron's face, as if to force a heated argument. Frank himself had to come in and help the officials separate them. Enes scored a double-double in that November 13, 2017 game, but the Cavs still won 104-101.
The Akron Hammer vs GSW
It was tough to pick just one of the Warriors' names because the Cavaliers and the GSW potentially had the greatest rivalry the league has seen. They clashed in four NBA finals from 2015 to 2018. During this time, LeBron found himself at odds with the entire unit. On many occasions, the cameras caught him pushing and forcing Stephen Curry to the floor. He would have many hot exchanges with the Splash Brothers and Kevin Durant as well. But the one when he almost 'stepped over' Draymond Green stands out. It almost led to his suspension before JR Smith came and calmed him down. Watch the video and see for yourself.
LeBron James vs Patrick Beverley
It was a Cleveland Cavaliers vs Houston Rockets game. The Rockets were leading by 8 points in the 3rd quarter when James bowled over Patrick Beverley inside the paint. Bron was cruising ahead to make an easy dunk when Patrick came in his way and forced full body contact. This caught them both off-balance and there they were, over one another on the floor. They both started clawing at each other when the entire unit circled them. 
ADVERTISEMENT
Article continues below this ad
Lakers' Bron vs the Houston Rockets
When LeBron left the Cavs for the second time in 2018, it was for the Lakers. The entire world had its eyes set on Staples Center to watch LeBron make his debut in that Golden jersey. However, that game got tainted with a massive fight. Although LeBron was more of an onlooker in this one, it turned into a Lakers vs Rockets fight. Both Rajon Rondo and Chris Paul punched each other in the face, and Bron played the role of a big man as he pulled CP3 by his shoulders and dragged him off-court.
ADVERTISEMENT
Article continues below this ad