WATCH: LeBron James' Mindboggling Dunks on Kevin Garnett, Josh Howard and Others
Published 03/07/2021, 3:30 PM EST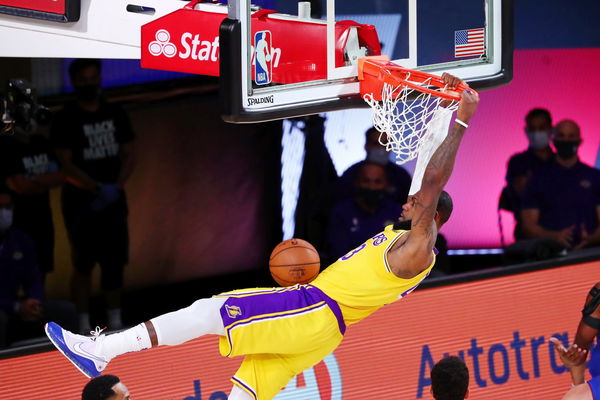 ---
---
Dropping monstrous dunks is an art and the work of an artist. There are many players in the NBA who have tried to master this, but only a few have truly embedded themselves in the league's history as one of the greatest slam dunkers. Other than grabbing alley-oops like he was born with that skill, LeBron James, or should we say 'The Chosen One' can throw down dunks like nobody else.
ADVERTISEMENT
Article continues below this ad
He can do it with so much power and accuracy that there is no way that the player he dunks on won't be humiliated for the rest of his career and posterized brutally. Bron might have his reasons for not taking part in a Slam Dunk Contest ever. However, let's reminisce the 6'9″ GOAT's best dunks of his career.
LeBron James didn't spare Rasheed Wallace
ADVERTISEMENT
Article continues below this ad
Unlike King James, Rasheed Wallace was and is still known in the NBA for very different. This Detroit Pistons' player had a rap sheet of constantly bickering with the referees. In fact, he had no regard for the consequences and was didn't bother even when he was evicted.
So, back when LeBron James' was having the run of his career in the 2007 NBA playoffs with the Miami Heat, Bron went face to face with the player who led in Technical fouls. In the Eastern Conference Finals, the Heat met the Pistons and was trailing from the first two games.
But LeBron rallied his troops and led the team to four straight victories. It was Bron's incredible dunk on Wallace that set the tone for the remaining series.
The famous double pump around Josh Howard
This hammer dunk was against the Dallas Mavericks and the collateral damage was Josh Howard. While Dirk Nowitzki played it safe and pretended like he was defending some other player, Josh Howard got schooled.
LeBron just went from the right-hand side of the paint, double pumped around Howard, and milliseconds later, Howard was posterized by LeBron's dunk on almost the other side of the rim altogether.
The Statue of Liberty dunk on Tim Duncan
The 'Statue of Liberty' dunk is famous for the ease with which LeBron did it on a 6'11" legend, Tim Duncan. Duncan is considered one of the greatest centers to exist in the NBA. He has led his team to beat LeBron James twice in the NBA Finals, but seems like James has his own way of taking revenge.
What looks like a normal layup from afar turned into him taking off, holding the ball high in one hand just like the Statue of Liberty and dropping it as if he's been doing this for a lifetime.
The LeBron James windmill reverse dunk
It is uncanny how much this unique dunk resembles the one Lakers' legend Kobe Bryant pulled off when his career had just started to pick up. A dunk, coupled with a reverse, makes this move all the more complicated.
This is the best depiction of Bron's athleticism. It was against the Houston Rockets. Avery Bradley could intercept a pass from Russell Westbrook and he passed to LeBron, and the showman did what he does best.
The all-time top dunk on Kevin Garnett
Although Boston Celtics' Kevin Garnett did his best to stop LeBron from dropping that dunk, that's for sure that he must have come to regret it instantly.
ADVERTISEMENT
Article continues below this ad
Bron drove into the lane and as he went up soaring, there was no end to it. This dunk, on May 12, 2008, was a dunk that created his legacy as a dunk artist.
These are just some of the plethora of dunks LeBron has entertained us with. Which hammer of LeBron's is one of your favorites?
ADVERTISEMENT
Article continues below this ad
Read also- 'Won It Easily': 1986 Slam Dunk Champion Feels LeBron James Must Have Participated in the Event