WATCH: LeBron James Trash Talks Celtics Bench As Enes Kanter Just Stares Back
Published 12/08/2021, 1:15 AM EST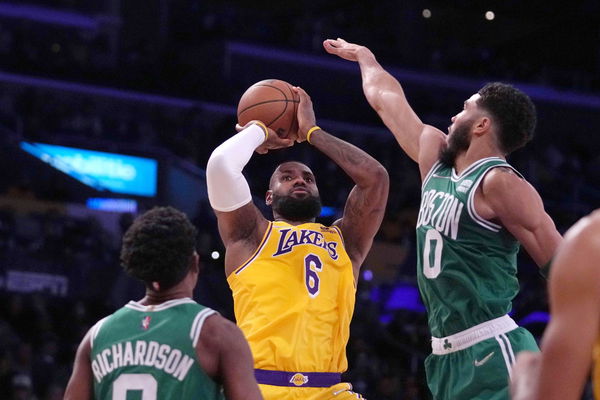 There's nothing quite like when the Los Angeles Lakers meet up with their long-standing rivals, the Boston Celtics. Chiefly, this was definitely a game of revenge for the purple and gold outfit after the Celtics demolished them when LeBron James had just returned after recovering from his abdominal injury.
Thankfully, it worked out for the Lakers who not just needed a win desperately but got to add another W by beating them comprehensively, 117-102.
Lakers pull off a much-needed victory
ADVERTISEMENT
Article continues below this ad
The last time these two teams locked horns, the Boston Celtics pulled off a blowout 130-108 win against them. Their superstar player Jayson Tatum had a big 37-point performance, while Russell Westbrook was struggling on offense, Bron wasn't at his best, and only AD had put up a note-worthy 31-point performance.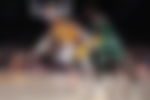 However, this time it was a lot different. The Lakers really put up a fight, with all three of their superstars bombarding the Celtics with buckets. LeBron James finished with 30 points, Davis had 17 but grabbed a whopping 15 rebounds, while Westbrook too, had a great night with 24 points and 11 assists.
Of course, Jayson Tatum tried to rally back with his 34 points as well, but it was too late. With this, the Lakers record is now 13-12 and can start up a winning streak.
WATCH THIS STORY: 5 Lessons To Learn From Kobe Bryant's Mamba Mentality
Lakers LeBron James and Boston Celtics had some banter going on
Whenever a Celtics and Lakers matchup comes up, there just has to be some drama. Although it was nothing serious, there was a hilarious reaction from Enes Kanter that nobody should miss.
ADVERTISEMENT
Article continues below this ad
During the third quarter, the Lakers were leading 66-58 with eight minutes in. But a block from LeBron James on Dennis Schroder led him to the free-throw line, which made Bron indulge in some friendly trash-talk with the Celtics bench. While other players were visibly taking part in it, Enes Kanter said nothing and just stared at the Lakers superstar.
ADVERTISEMENT
Article continues below this ad
Well, the purple and gold finally avenged their last humiliating loss against the Celtics. Now the question that lingers is, whether they will be able to keep up this momentum when they face the Memphis Grizzlies next.