WATCH: Kobe Bryant Discusses Playing Against Michael Jordan with Shaquille O'Neal in a 1996 Throwback Video
Published 03/14/2021, 11:16 PM EDT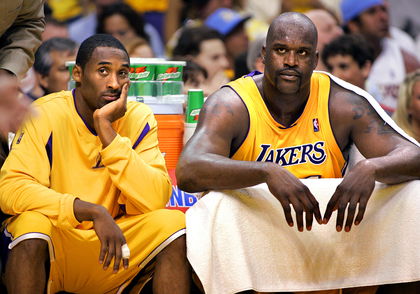 ---
---
The makers of The Last Dance dedicated Episode-5 to the memories of Kobe Bryant, where the 5-time champion gave a posthumous appearance. It was both heartbreaking and intriguing to see the Black Mamba discuss his idol from his rookie days. 
ADVERTISEMENT
Article continues below this ad
It is always interesting to witness champions of two eras play against each other. While that never happened with LeBron James and MJ, it did happen with Kobe and the latter. So how excited was the rookie Bryant to lock horns with his childhood hero?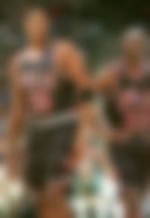 A rare video of Kobe Bryant from 1996
ADVERTISEMENT
Article continues below this ad
Kobe Bryant was just 18 years and 71 days old when he made his NBA debut in 1996. By then, Michael Jordan was already a 4-time NBA Champion and was on his way to win two more in consecutive years. 
That year, Kobe Bryant made his first appearance against the Chicago Bulls on December 17, 1996. It was a close battle that the Bulls won 129-123, where Michael Jordan and Scottie Pippen combined 65 points while Dennis Rodman grabbed 18 rebounds.
On the other hand, a double-double from Shaquille O'Neal went to waste as the Lakers fell short in the final quarter. In that game, Kobe came off the bench and played 10 minutes to score 5 points and get a rebound.
In a 1996 interview, the Lakers' star revealed, "Very excited to play with Shaquille O'Neal. That's a very big step… Everybody knows that if you do not concentrate on Michael Jordan, he's gonna kill you."
Read Also – 'Heaven's MVP': Relive How Michael Jordan and Shaquille O'Neal Paid their Respects to Kobe Bryant
The Last Dance and those loving memories
It took Kobe Bryant two entire seasons to become a regular starter in the Lakers squad. He also took his time to gel up with Shaquille O'Neal and other teammates and saw himself becoming an All-Star in no time. Obviously, a highly competitive Michael Jordan was taking note of the rise of this new league icon.
In a scene from the celebrated documentary, the videographer captured MJ saying, "that little Laker boy's gonna take everybody one-on-one. Kobe, yeah, he don't let the game come to him. He just go out there and take it." 
ADVERTISEMENT
Article continues below this ad
Later, in the same docuseries, Kobe stated, "what you get from me, comes from him. I don't get five championships here without him because he guided me so much."
Such was the respect that the Black Mamba held for his idol-turned-competitor. They went on to play many games against one another, their All-Star competition being the most iconic.
ADVERTISEMENT
Article continues below this ad
Which Bryant/Jordan moment is your all-time favorite? Help us know in the comments section.