WATCH: Lakers' LeBron James Beats Joel Embiid with the Help of Anthony Davis
Published 01/27/2021, 9:17 PM EST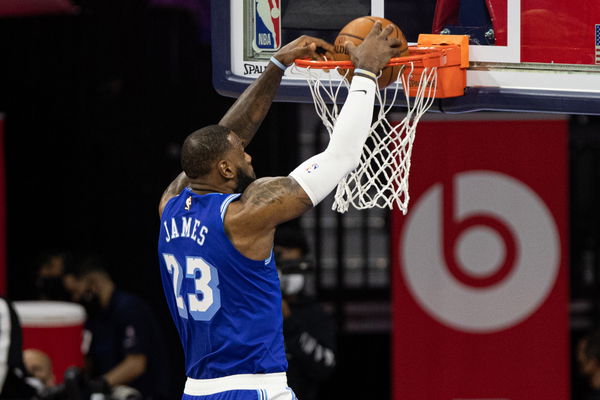 ---
---
The Lakers played their 11th away game against the Sixers to stretch their on-road dominance. They did not particularly enjoy a great beginning to the game, but they surely had their leader, LeBron James, playing at his best. 
ADVERTISEMENT
Article continues below this ad
The men in Golden and Purple won their last three games while the Sixers fell short against the Pistons in their latest outing. However, the latter's loss was associated with Joel Embiid's absence, who, against the Lakers, looked every bit scary with 13 points in Q1 alone.
When LeBron James and Anthony Davis tricked Embiid
ADVERTISEMENT
Article continues below this ad
At one point in the game, LeBron used the possession to show off just how good the chemistry of the Lakers' duo is. He entered the paint, cruising past Ben Simmons, and found Joel Embiid ready to block him. That's when he pulled a no-look back pass to find AD right where he should be as he completed the dunk. Take a look –
Text book shots like these can make even the best of the defenses look tattered. Shockingly, this legendary duo pulls off these feats in almost every other match.
LeBron James added 11 points in the first quarter and showed that he has continued the rhythm gained from the Cavaliers game. 
Lakers' important comeback in the second quarter against the Sixers
In Q2, Talen Horton-Tucker entered for Montrezl Harrell but did not look very impressive in the early minutes. Markieff Morris made a putback layup and added the points on the board, only to miss a couple of threes later.
ADVERTISEMENT
Article continues below this ad
However, it was again a worthy effort from LeBron James that saved them big time in the second quarter. He scored 11 more points, while Anthony Davis helped with his 14. As Kentavious Caldwell-Pope and Dennis Schroder went scoreless, it was the star duo that helped close the 10-point deficit to a 4-point game.
For the Sixers, apart from Embiid and Simmons, the former Laker Danny Green looked dangerous as he dropped triple three-pointers, 4 rebs, 1 assist, and as many blocks and steals. He was playing amazingly from both ends as if to deliver a message.
By the first half, the score was 51-55 with the Lakers trailing.
ADVERTISEMENT
Article continues below this ad
Read Also – Why LeBron James is Odds on Favorite to Clinch 2020-21 NBA MVP