WATCH: LeBron James Gives His Fans Memory of a Lifetime During the Game Against Spurs
Published 12/31/2020, 12:54 AM EST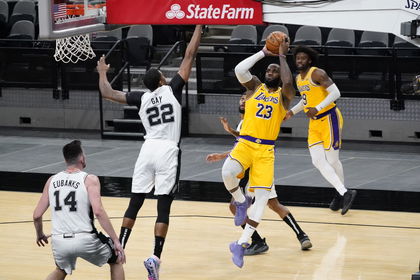 ---
---
LeBron James is now a 36-YO man who is into his 18th year in the NBA. The "chosen one" started shooting hoops at the tender age of 9. This means he has given almost 75% of his breathing moments to the game of basketball. If the 10000 hours rule for perfection is real, Bron has given 5x that much time to hone his skills.
ADVERTISEMENT
Article continues below this ad
Bron has ended 2020 in style by bringing home a victory against the Spurs. His 27-ft three-point jumper remained the highlight. As always, he played the leading role in the victory and attracted praise from one and all, including veteran coach Gregg Popovich. 
How did LeBron James make his fans feel special on his birthday?
ADVERTISEMENT
Article continues below this ad
One highlight from the game touched the hearts of many. Just as the Lakers defeated the Spurs 121-107, King James went running towards the stands. The ongoing pandemic has kept fans from entering as spectators, but there were a few fortunate ones enjoying the match and cheering for the Lakers. The Akron Hammer reached out and slipped bands on their wrists to mark the special day.
Such small gestures have immense power when it comes to changing the life of sports fans. Chances are that those fans will never remove those bands from their wrist since they're more like a permanent tattoo from LeBron himself. 
How did Bron celebrate the day?
The 16-time NBA All-star had a very memorable year. Unfortunately, it began with him losing Kobe Bryant. But from there on, he made it a commitment to give the Black Mamba the best possible tribute, and he did this by winning his 4th NBA ring and the Lakers' 17th. He lost the regular-season MVP race to Giannis Antetokounmpo, but won the FMVP to cover for it. Lastly, when everyone thought he would not return for the next season so early, he surprised fans by returning as an equally strong player. 
ADVERTISEMENT
Article continues below this ad
Earlier, Anthony Davis had said that they would have to get creative with LeBron James' birthday celebrations while staying within safety guidelines. Then Quinn Cook posted a small video to show how happy was Bron to show up on his birthday. 
ADVERTISEMENT
Article continues below this ad
Meanwhile, millions of fans on Twitter are already wishing him in all sorts of creative ways. Have you wished King James yet?