WATCH: Lakers' LeBron James Goes 'Caw-Caw' When a Wizards Fan Tried to Mock Him
Published 04/29/2021, 1:02 AM EDT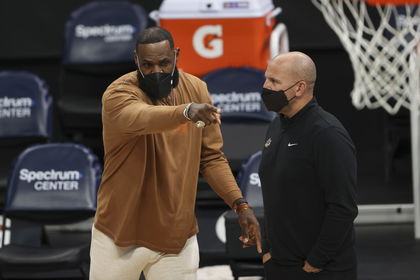 ---
---
It has been 20 straight games since LeBron James is sitting out with his injury. As a result, the Lakers are struggling to keep pace with the punishingly competitive WC teams that are stepping over it now. 
ADVERTISEMENT
Article continues below this ad
Although he might not project, their status quo might not feel thrilling to the floor general of the defending champions. Also, adding fuel to the fire, the Lakers lost their recent clash against the Wizards in a forgetful fashion. So bad that a Washington fan decided to troll Bron from the stands.
Lakers' LeBron James gave a befitting response to a troll
ADVERTISEMENT
Article continues below this ad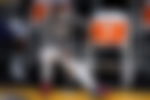 The Akron Hammer, when not locked-in, is one of the coolest players in the league. He would often dance on jingles, mock other players, photobomb courtside interviews, and laugh his heart out at every laughable scenario.
So, it is very tough to get under his skin and make him simmer with anger. Still, a Wizards fan decided to take advantage of his side's lead over the Lakers and tried to mock Bron. During a timeout window, a male fan from the crowd yelled at the top of his lungs, "Hey LeBron, you're a big baby!"
Thanks to the restricted attendance, it was easily audible to the L-Train standing at another corner. As if totally undeterred, he continued doing his thing with the ball, and then made an insanely funny 'Caw-Caw' crow sound to mock back the troller. Watch the hilarious video here – 
It's so tough to believe LeBron's voice box could instrument one such ear-piercing shrill sound. Also worth noticing, none of his Lakers men reacted to the sound, further explaining how such reactions are normal with Bron.
Read Also – Anthony Davis on the Best Part of Having LeBron James as a Teammate: "He's Always Happy"
When a fan irritated the King in a battle of words
During a 2017-18 regular-season game between Cleveland Cavaliers and Chicago Bulls, a Bulls fan successfully provoked Bron. He was sitting at the bench with Kevin Love when a fan started yelling at him.
ADVERTISEMENT
Article continues below this ad
The fan asked, "When are you gonna stop crying?" and counted how he lost Kyrie Irving and other players. Take a look at how Jae Crowder could not stop his laughter while Bron dealt with it seriously –
Something similar, but on a much lighter note, had also repeated with courtside Karen this season.
ADVERTISEMENT
Article continues below this ad
So, which one of the LeBron James fan memories is your favorite? Drop your interesting takes in the comments.