WATCH: Luka Doncic Pulls Off a Magic Johnson-Esque No-Look Pass in Slovenia's Huge Win Over Japan in Tokyo Olympics 2020
Published 07/29/2021, 2:23 AM EDT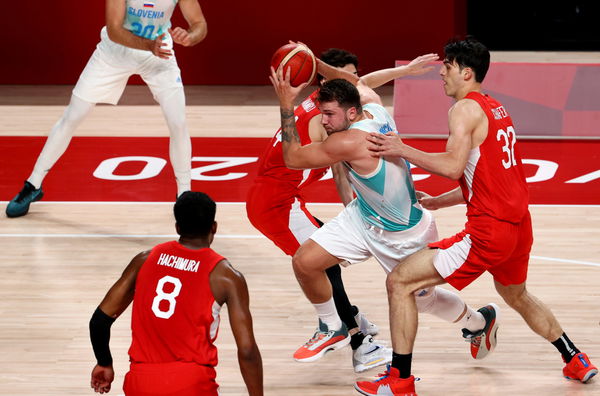 ---
---
All Olympic basketball fans will continue to have eyes on Slovenia, who came out of a monstrous win in their opener against Argentina. All thanks to Luka Doncic. And now that they were up against Japan, who weren't as lucky since they lost to Spain, Luka Doncic bagged another victory. This win was vital for both teams so that they could remain in the race for the gold. More so for Japan who has now reached the brink of elimination, lose this game 116-81. And when Doncic starts throwing around no-look passes, consider the game done for good.
ADVERTISEMENT
Article continues below this ad
Luka Doncic gives a glimpse of Magic Johnson?
Japan entered this matchup after a disappointing loss against Spain. Only Washington Wizards, Rui Hachimura, and Toronto Raptors' Yuta Watanabe had scored in double-digits, 20 and 19 points respectively. But they were below average from the field with only 38%. Since Spain ranked 2nd in the FIBA World Rankings, compared to Japan's 42nd, the balance was off from the start.
ADVERTISEMENT
Article continues below this ad
But because they did put up a tough fight, it seemed like they could beat Slovenia, who are making their debut in the Olympics this year. But after watching Luka Doncic wreak havoc in Slovenia's first game vs Argentina, that misconception should have been debunked. He put up 48 points, 11 rebounds, 5 assists, and 3 steals. How could they have lost?
And now, playing against Japan, he finished as their top scorer again. He had 25 points,7 rebounds, and 7 assists. While Zoran Dragic was right behind him with has 24. But even then, he definitely became the highlight of the game with his no-look pass, Magic Johnson style.
Since Slovenia is leading 78-64 with a couple of seconds left for the third quarter to end, Japan is unlikely to snatch the lead back. They only again only have Hachimura, who has 27 points till now. With Watanabe at 13 points as well.
WATCH THIS STORY: Michael Jordan's Greatest Signature Moves: Jimmy Butler, Luka Doncic, and Other NBA Stars Emulating the Bulls Legend in 2021
Is a no-look pass becoming a Doncic signature?
This isn't the first time Luka has shocked us with his no-look pass. It happened when they clinched a spot in the Olympics after defeating Lithuania. Doncic's unique style and the way he looks at the game is what makes him one of the best.
ADVERTISEMENT
Article continues below this ad
Winning against Japan is the best-case scenario for Slovenia. Because they are up against second-ranked Spain and they need to stay in momentum to capture that victory as well.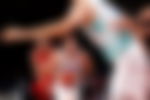 Everyone is predicting Slovenia to be one of the toughest competitors during the men's basketball Olympic games. And fans really want Luka Doncic and Co. to keep them entertained with stellar performances. They've just made their first appearance to the Olympics and it would be a shame if they were kicked just as quickly as they came in.
ADVERTISEMENT
Article continues below this ad