WATCH: Jimmy Butler Mimics Serena Williams' Match-winning Wave In Front of an Imaginary US Open Crowd
Published 12/24/2020, 6:00 AM EST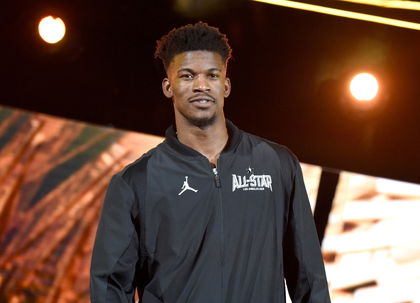 ---
---
There is a childlike fan hiding inside every star. Take for example Roger Federer, a 20-time Grand Slam champion. He is the undisputed king of grass and famous for dominating the last decade. But he idolizes Bulls' Michael Jordan just like any teenage fan. On the flip side, Jimmy Butler too is a fanboy of a tennis star.
ADVERTISEMENT
Article continues below this ad
Jimmy G. Buckets was the prime reason why the Miami Heat could qualify for the NBA Finals 2020. He showed the world how perseverance and aggression alone can do wonders. But it is not just basketball that gets his adrenaline high. Tennis makes the cut too. 
Jimmy Butler mimicked the 'King of WTA'
ADVERTISEMENT
Article continues below this ad
Just recently, the 5-time NBA All-star took some time off ahead of the very demanding 2020-21 NBA season. The fitness mogul found his resolve in playing lawn tennis. He practiced on a hard court with his hitting partners and dropped a hilarious video after the practice session.
In the capture, he can be seen asking his drained out partners to cheer for him just as the US Open crowd would do for Serena Williams, no matter if she is winning or losing. A high-on-energy Jimmy gave instructions, "say my name aloud, everybody, 'Serena Serena Serena!'"
When Jimmy G. Buckets dared Serena Williams for a match
This was not the very first time when the Miami Heat star has mentioned Serena Williams. Prior to this, Jimmy once gave an interview where he did some self-promotion by tagging himself as a decent tennis player. Not stopping at that, he also challenged the 23-time Open-era Grand Slam champion to a match.
ADVERTISEMENT
Article continues below this ad
He stated, "I've been playing a lot of tennis lately. I'm not bad, but I'm not great. But if you know me, I'm not giving up until I'm really good at it. I'm not saying I'm gonna be able to beat Serena, I'm not saying that. But we might be on the same level one of these days."
However, the tennis diva is yet to respond to any of these words from competitive Jimmy. Apart from a love of tennis, Jimmy also shares a great love for Brazilian Soccer great Neymar Jr. and The Fighter fame Hollywood actor Mark Wahlberg. 
ADVERTISEMENT
Article continues below this ad
So what's your say, can Jimmy give Serena a tough competition if they ever play a friendly tie?