WATCH: Giannis Antetokounmpo and Jrue Holiday Combine for Historic Play and Nail Phoenix Suns in NBA Finals Game 5
Published 07/18/2021, 12:07 AM EDT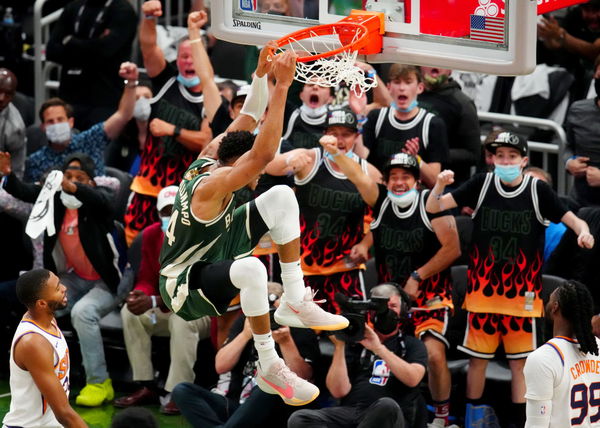 ---
---
The game 5 between the Milwaukee Bucks and Phoenix Suns was not a recommended watchpiece for the faint of heart. It started as a sinusoidal curve with Phoenix dominating Q1 and the Bucks grabbing Q2. But late in Q3, it turned into a fist fight with both the sides on a hunt for blood. It was a night for Giannis Antetokounmpo and men to shine.
ADVERTISEMENT
Article continues below this ad
The Bucks came into the match with a great momentum and that helped their case to a huge extent. Even with a slow start and a charging Devin Booker, they could change weapons and switch to the JH-27 for a win.
Jrue Holiday and Giannis Antetokounmpo combined to form explosion
ADVERTISEMENT
Article continues below this ad
With just 30 seconds remaining on the game clock, the Suns were one point short of matching the Bucks. Plus, they had their top scorer Devin Booker with the ball possession and a high probability of an upcoming game-winning lead. 
However, Booker soon found himself surrounded by three big men in Giannis Antetokounmpo, PJ Tucker, and Jrue Holiday. Just as he turned to possibly look for Chris Paul, Jrue snatched the ball in style and ran down the court. Take a look at his aerial pass towards a sprinting Giannis as the Freak completed an alley-oop.
Later, with a 3-point lead, Giannis attempted a poor free throw with a booing crowd and that led to a failed rebound attempt.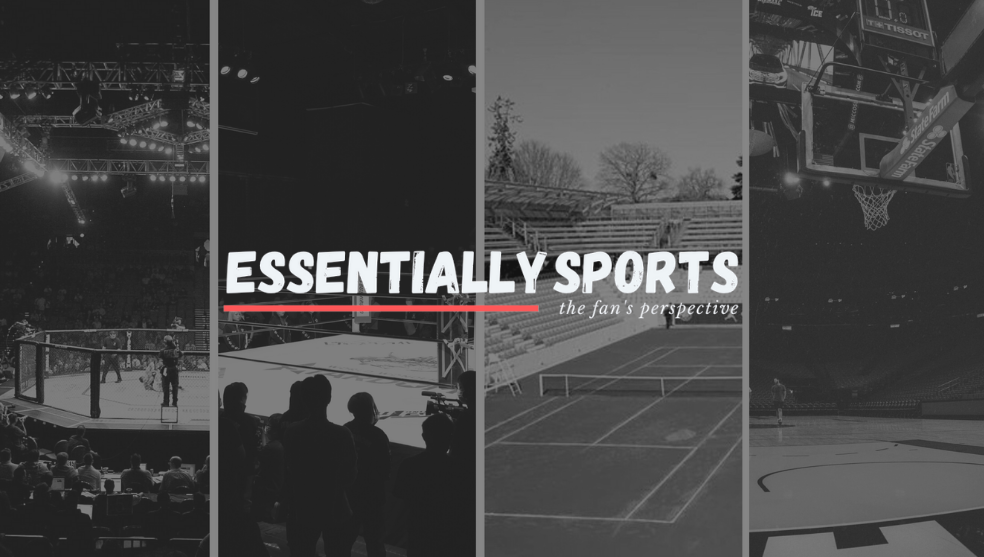 Those final minutes and the Milwaukee Bucks taking the crucial Game 5
With 3:25 remaining, the Suns were trailing by 10 points at 110-117. However, a series of finger roll layups followed by a clutch three-pointer from Devin Booker brought the Suns back in the game. Finally, a Chris Paul layup made it a one-point game and the match appeared in the grabs of the Suns.
But after that sequence from Jrue & Giannis, and two clutch FTs from Khris Middleton, it became a 4-point game with under 10 seconds remaining. Later, both DBook and CP3 missed their deep shots, leading to a painful loss. 
ADVERTISEMENT
Article continues below this ad
It was crazier given the Suns led Q1 by 16 points and they were extremely efficient with their shooting. If anything, Monty Williams did not see Jrue Holiday swapping roles with Giannis Antetokounmpo.
Do you see the Bucks winning in six and eventually lifting the trophy? Help us know in the comments.
ADVERTISEMENT
Article continues below this ad
Watch this story – Giannis Antetokounmpo's Match-Winning Block from Game 4 and Other Events