WATCH: Giannis Antetokounmpo Improvises on an Air Ball and Finishes With a Powerful Putback in Game 4 of NBA Finals
Published 07/14/2021, 10:15 PM EDT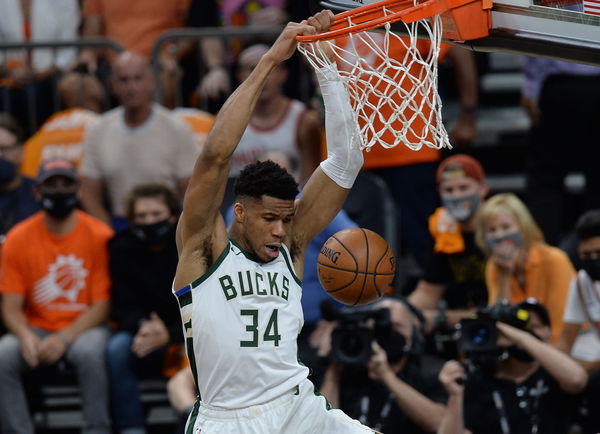 ---
---
Apart from Giannis Antetokounmpo vs Chris Paul, the NBA Finals 2021 is also about Fiserv Form vs Phoenix Suns arena. In Game 4, the loud Milwaukee supporters were all "Bucks in Six" as the game began. However, just three minutes into the game, four of the Suns' starting five had scored for a 10-4 lead. 
ADVERTISEMENT
Article continues below this ad
The visitors appeared locked in from the beginning as they got their open looks pretty easily. Additionally, Mikal Bridges with his reach and DeAndre Ayton with his IQ were able to out-rebound the Bucks offensively. Yet, a convincing game from Giannis and men helped them close the gap in the second quarter.
Giannis Antetokounmpo with a quick bandage 
ADVERTISEMENT
Article continues below this ad
In Q1, Jrue Holiday was struggling too bad with his offense, going 1/6 from the field. But amidst the lost opportunities for the Bucks, it was Giannis Antetokounmpo who was all charged up. In a sequence, he air-balled an open three-point attempt as the ball fortunately found Bobby Portis for the rebound. Take a look at how the Greek Freak covered up for the humiliation with a power dunk upon collecting the ball real quick –
Well, that was the story of the night as Giannis kept turning rebounds into fast breaks and that helped the Bucks offensively. Although he was miserable from the long-range, his defense work caught rhythm as the game matured.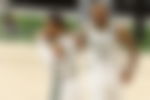 When Giannis took a revenge from Game 3
For the Bucks, Khris Middleton cooked early as he scored 7 early points. Apart from him, it was the crowd favorite Bobby Portis whose early three sent Milwaukee to cloud 9. However, he was not the only one pleasing the crowd as the star attendance had Kareem Abdul-Jabbar/Oscar Robertson (1971 team) and comedian David Chappelle.
Q1 saw a miserable 20% three-point shooting from both the sides as only Cam Johnson could do the long-range for the Suns. But with Cam's mention, one must remember how the Suns' bench leader had placed a massive dunk on a stumbing PJ Tucker in Game 3. Well, Giannis took his revenge on Cam with his spin-around move in Game 4.
ADVERTISEMENT
Article continues below this ad
By the end of Q2, the Bucks stood neck-to-neck against the Suns with 52-52 on the scoreboard. Which team were you supporting tonight? Help us know in the comments.
ADVERTISEMENT
Article continues below this ad
Watch this story – Interesting and Unknown Fascinating Things about Giannis Antetokounmpo
Trending Stories