WATCH: Jrue Holiday Schools Devin Booker with Impressive Steal and Three Pointer
Published 07/17/2021, 11:32 PM EDT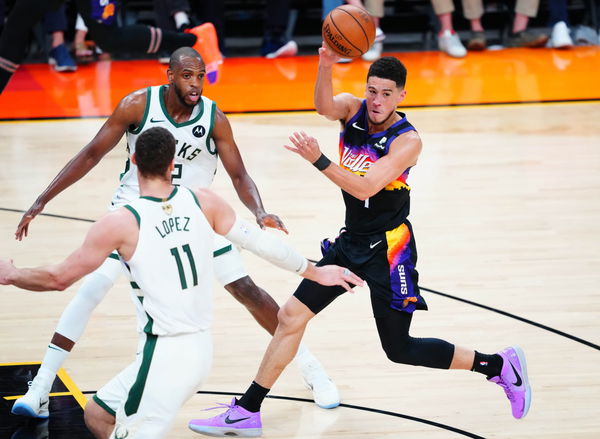 ---
---
Devin Booker starred Phoenix Suns hosted the Milwaukee Bucks in Game 5 to look for their third home court win. With LeBron James in attendance to cheer for friend Chris Paul, the home team took off with a 16-point Q1 lead but soon blew it away. 
ADVERTISEMENT
Article continues below this ad
The Suns played a very locking defense in the initial quarter but surprisingly cooled off in Q2. It was like watching a boxing match where the hard-hitter from the initial rounds took a back seat and started taking punches with weak legs. It felt as if the 24-43 Q2 was the beginning of the end of Suns.
ADVERTISEMENT
Article continues below this ad
When Devin Booker looked helpless against Jrue Holiday
Jrue Holiday all of a sudden became the Bucks' own Klay Thompson, or rather an Isiah Thomas as he switched gears against the Suns. The star stood a defensive force against Chris Paul in Q1 but took the offensive seat in Q2 and onwards. However, the sequence that stood out was the one when he left Devin Booker clueless with a persistent and stubborn defense.
With the Bucks carrying a 5-point lead in Q3, and DBook enjoying an impressive individual quarter, Jrue came to the Bucks' rescue. Take a look at this 2-way play from Jrue as he denied a passage to the 24-YO.
In his first 39 minutes, Jrue scored 27 points, 4 rebs, 12 assists, 2 steals, and 1 block. All that, with a 60%+ efficiency from the field and a 50% accuracy from downtown.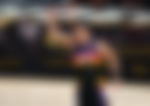 The Milwaukee Bucks and Phoenix Suns went neck-to-neck into final minute
ADVERTISEMENT
Article continues below this ad
The non-stop hustle from Bobby Buckets helped the Bucks as Jrue Holiday led the offense from the front. No NBA pundit could've imagined Giannis Antetokounmpo scoring just 4 points in a quarter and yet his team completing an impressive 43 points. The shift in momentum was so heavy that Monty Williams' squad looked directionless. 
In Q3, it was again Devin Booker marching with the torch all alone with no help in sight. In the initial 12 points, he scored 10 (5/5) and assisted on 2 to help the Suns stay strong. With Adele, Vanessa Hudgens, Kyler Murray, and Lil Wayne in the audience, it was Devin saving the game for the Suns and helping their cause.
For the Bucks, the third quarter went to Mr. Midrange Khris Middleton who kept cooking around the nervous energy of the Phoenix crowd. And in the decisive quarter, it was yet again a DBook vs Middleton show as the latter completed a couple of clutch daggers and Book followed with accurate layups.
ADVERTISEMENT
Article continues below this ad
It was a one-point game with 37 seconds remaining on the clock. Which side were you on and why? Help us know in the comments.