WATCH: NBA Game Witnesses Absurd Scenes As Fans Put Insects on Themselves
Published 10/31/2021, 9:30 AM EDT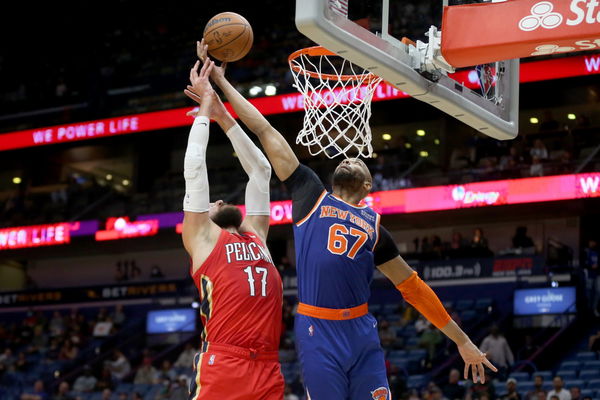 The New York Knicks and New Orleans Pelicans are having poles apart seasons. On one hand, the Knicks are at the top of the Eastern Conference with a 5-1 record so far. The Pelicans, on the other hand, are right at the bottom of the Western Conference with a 1-6 record. And it was quite expected when the Knicks defeated the Pelicans 123-117 tonight. However, as sad as it is, the NBA halftime show during the game was far more interesting and crazy.
NBA Fans get a face to face with roaches during Pelicans vs Knicks halftime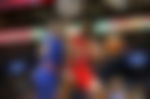 NBA halftime shows are always a mix of many things. From pop stars like Drake, Rihanna, J.Cole, and Mariah Carey performing to some wild challenges that keep us entertained while we wait for the third quarter of a game to resume. A lot of times, these tend to become far more intriguing than the game itself. Exactly that happened during the New York Knicks vs New Orleans Pelicans matchup.
ADVERTISEMENT
Article continues below this ad
So during halftime, some three fans were challenged to hold out their hands. While doing so, roaches were one by one placed on their palms and allowed to move about for 15 seconds. In fact, they were placed on their necks and shoulders as well.
While the first contestant was as cool as a cucumber, the next two seemed quite nervous. Well, who wouldn't be? Fortunately, all of them completed the challenge successfully.
WATCH THIS STORY: Anthony Davis, Zach LaVine and Other NBA Players Who Have Donned Kobe Bryant's Sneakers in the 2021-22 NBA Season
Some other crazy halftime shows
ADVERTISEMENT
Article continues below this ad
There isn't anything the league doesn't try out to keep fans busy and entertained during the incredibly long halftime. We have seen dog shows, balancing acts, basketball tricks, circus tricks, magic, gymnastics, and so on and so forth.
However, some notable names are Amazing Sladek, the Red Panda, Christian, and Scooby, and Steve Max. These are just a few of them who have managed to bring out the best acts for the audience to enjoy.
ADVERTISEMENT
Article continues below this ad
This only makes us realize that the NBA is so much more than just a game. The league invests a lot in keeping fans intrigued and what better way than to keep these halftime shows, as crazy as crawling roaches on people's bodies, right?