WATCH: NBA Player Gets Kicked in the Face in Bizarre Scenes From Rockets vs Mavericks
Published 11/16/2022, 11:47 PM EST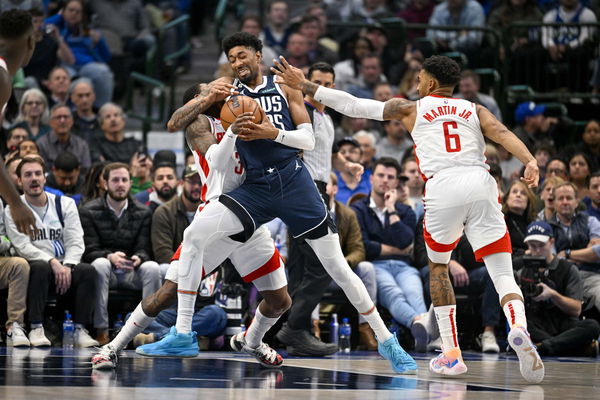 A short clip from the Houston Rockets vs Dallas Mavericks game recently went viral. The video showed a bizarre moment from the game on November 16, 2022. Mavs star Dwight Powell got hit by Rockets player KJ Martin in an unfortunate incident during the game. While it is unknown if the act was intentional, it sure did seem like it hurt.
ADVERTISEMENT
Article continues below this ad
The Houston Rockets faced the Dallas Mavericks at the American Airlines Center. The Mavs have been doing pretty well this season. As of now, they are going smoothly with an 8-6 record. On the other hand, the Rockets have been struggling with a 3-12 record this season. On Wednesday night, fans gathered to watch their favorite teams against each other on the court.
ADVERTISEMENT
Article continues below this ad
As the Rockets' KJ Martin goes on to make a successful shot, his knee simultaneously hits the side of Dwight Powell's face.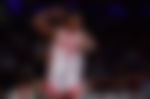 In the background, the commentator could be heard saying, "Oh yeah, that's aggressive. That's a hostile act man!"
Martin's intentions behind the act are not known for now.
Houston Rockets stars show visible improvements
ADVERTISEMENT
Article continues below this ad
Houston Rockets star Jalen Green has been doing surprisingly well in the past few games. Despite the team's continuous poor form, fans saw some of Green's best performances on the court. The Rockets' guard has been averaging above 20 points in the past few games. Moreover, fans could also see significant improvements in his passing skill. While the team is evidently struggling to keep a good record, Green's skills have probably managed to impress Rockets fans.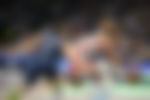 On the other hand, Usman Garuba too did fairly well in the Rockets' previous game against the Los Angeles Clippers on November 14. Garuba averaged 5 points with 4 rebounds and 2 assists. While the Rockets lost to the Clippers by 106-122, Garuba blocked three shots, making it his career-high performance. Given his progress, it would be safe to say that Garuba will probably be able to shoot more volume in the near future.
ADVERTISEMENT
Article continues below this ad
WATCH THIS STORY – Shaquille O'Neal's Bizarre Pre-Game Ritual From His Magic Days
Do you think KJ Martin's kick was intentional during the game? Let us know your thoughts in the comments section below.