WATCH: Nets' Kyrie Irving Mocks LeBron James and the Lakers After Missed Free Throw
Published 02/19/2021, 2:58 AM EST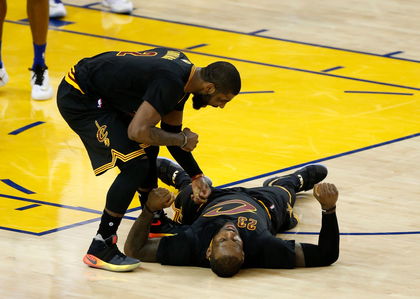 ---
---
LeBron James continues to amaze. This season, at age 36, James is the frontrunner for the MVP race. James has been one of the best players in the NBA and has contributed greatly to the Lakers' strong start to the season. The Lakers currently have the second-best record in the NBA, only second to the Jazz. But Bron's free-throw shooting still remains a weakness in his game.
ADVERTISEMENT
Article continues below this ad
Kyrie Irving takes shots at LeBron James
During the Lakers' game against the Nets, LeBron James missed yet another free throw. After the miss, Nets' guard, Kyrie Irving, mocked him and the Lakers by asking if James was really their best free-throw shooter. Irving took aim at a player with whom he has a very contentious relationship, even though they have shared success together in the past.
ADVERTISEMENT
Article continues below this ad
LeBron James and Kyrie Irving began playing together in 2014. James had re-signed with the Cleveland Cavaliers, after leaving the team four years prior to join the Miami Heat. During James' absence, Kyrie Irving was the number one draft pick for the Cavaliers in 2011. Irving had become the star player for the Cavs until LeBron James came back.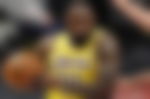 When LeBron returned in 2014, Kyrie got to see less of the ball. James, being a natural pass-first player, had more of the ball with him and dictated the offense. However, it was a formula that appeared to be working. The Cavs ended up going to the NBA Final for the first time since 2007. But Kyrie got hurt in game one, leaving James all alone against the newly emerging Warriors.
Ky and the King fall out with each other
The Warriors won the NBA championship, but next year was a completely different story. James and Kyrie led the Cavs to the NBA final once again. The Warriors had the best record in NBA history that season and established a 3-1 lead over the Cavs during the series. But the Cavs were able to overcome that, and Kyrie made the game-winning shot in game seven to seal the title.
ADVERTISEMENT
Article continues below this ad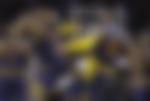 Everything appeared to be good in Cleveland for the next year, until 2017, when Irving demanded a trade, not wanting to play with LeBron James anymore. Their relationship fell off and really hasn't been the same since. Irving continuously takes subliminal shots at James, but James continues to praise the talent of his former teammate.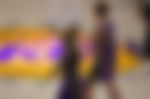 ADVERTISEMENT
Article continues below this ad
Can LeBron James and Kyrie Irving res0lve their differences? Right now, both players will be on the war-path, as many expect both teams to be in the NBA finals, so one shouldn't expect a resolution quickly.