WATCH: Nets' Kyrie Irving's Insane Alley-Oop Pass to DeAndre Jordan Against Spurs
Published 03/01/2021, 9:56 PM EST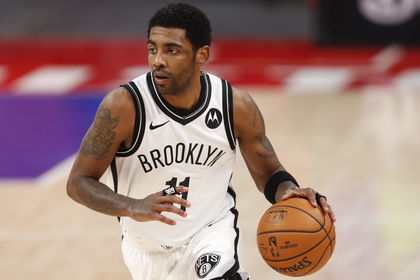 ---
---
The Brooklyn Nets' eight-game winning streak saw a sad ending, that too against the Mavericks, a team that was not expected to beat them at all. The Dallas Mavericks have struggled from the very start of the season and are only picking up their pace now. As the Nets stand second in the Eastern Conference, the Mavericks stand ninth in the Western Conference. However, the Nets will try to rebuild their chain of victories in their next outing against the San Antonio Spurs. In fact, Kyrie Irving is already showing some unique moves to ensure that.
ADVERTISEMENT
Article continues below this ad
Kyrie Irving and his fancy lob
Talking about streaks, the San Antonio Spurs saw a brutal end to their 22-year playoff appearance streak as it came to a halt last season, although it seems like they won't be making the same mistake again. Gregg Popovich and Co. are standing fifth in the competitive West and just had their last close victory against the New Orleans Pelicans.
ADVERTISEMENT
Article continues below this ad
Unfortunately, the Nets are entering this matchup after a loss. Without Kyrie Irving and even Kevin Durant, who is still out until after the NBA All-Star break, the Nets were lacking on the offensive end against Dallas.
However, as Irving is back in the lineup against the Spurs, they have been in the lead throughout up till the second quarter. Irving is also leading in scoring and in addition to that, his lob pass to DeAndre Jordan just stole the show. Kyrie's ball fake and then a lob pass for an alley-oop to Jordan is the type of play that he makes look customary.
The Spurs are likely to lose this one
By halftime, the score is 57-54 in favor of the Brooklyn Nets. While it looks like the Spurs are trying to keep it close, they still have a lot of drawbacks that might eventually lose them this game. San Antonio does not take enough three-points and relies mostly on their two-points.
ADVERTISEMENT
Article continues below this ad
However, the Nets do their best from the arc. Also, before their loss to the Mavs, Brooklyn was going undefeated and beating the best of teams. It seems unlikely that the Spurs will be able to beat a team that is threatening the reigning champions' throne this season.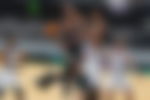 The Spurs are also shorthanded in this matchup without two of their best defenders, Rudy Gay and Devin Vassell. So with their other defender Loonie Walker playing, the Spurs won't be able to stop the Nets from burying them from the deep. Only a miracle can make them the winners in this one.
ADVERTISEMENT
Article continues below this ad
Read also- Boston Celtics CEO Believes Kyrie Irving's Departure is The Reason for Their Downfall