WATCH: Pelicans' Zion Williamson Bullies Kings' Richaun Holmes and Sends Him Flying Off the Court
Published 01/17/2021, 10:26 PM EST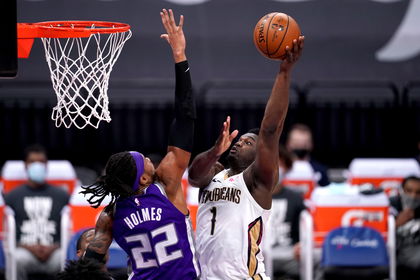 ---
---
Zion Williamson is almost like a bullet train on the basketball court. He is a bully inside the paint and he made that obvious ever since his rookie year.
ADVERTISEMENT
Article continues below this ad
The Pelicans' 4-7 record in the first 11 games is failing to reflect the kind of contribution he is making just second year into the league.
Having said that, there are certainly some areas where he is struggling, because of which Brandon Ingram and Lonzo Ball are still the most dependable players in the team.
ADVERTISEMENT
Article continues below this ad
Zanos also failed to stop LeBron James from putting on yet another dominant show. As a result, the Pelicans are coming of 5 consecutive losses as they face the Sacramento Kings.
Zion Williamson and his intimidating show of power
The Pelicans were the favorites heading into the Kings game, and they lived up to the expectations. Zion Williamson took the early charge of the game and scored 10 points in the first quarter itself.
In the 5th minute of the game, he rushed into center Richaun Holmes inside the paint. His upper body came in contact with Richaun's shoulders and had such an impact that the latter got pushed out of the paint. 
He did not stop there. The 6'6" power forward made a hammering poster dunk on Chimezie Metu with just a minute left in Q1. Take a look – 
Zion looked angry, scary, and was seemingly playing to make a statement for himself and his side. 
Can the Pelicans make a strong comeback?
ADVERTISEMENT
Article continues below this ad
The Southwestern side has some really decent players on its roster. Zion, for one, is averaging close to 22 points and 8.5 rebounds per game.
He missed just one game against the Clippers (covid protocols) and is looking very healthy. Brandon Ingram is also showing a good offensive rhythm this season as he has continued his performance from the past year. 
Next up, they have Steven Adams, who is proving to be an efficient defender but is yet to achieve the past form that he showed for OKC. Also, Lonzo Ball (recovering from a knee injury) is soon picking his offense just as the season is maturing.
ADVERTISEMENT
Article continues below this ad
Even against the Kings, both Zion and Ingram together combined 33 points in the first half and kept them in a 67-58 lead. They must again grab the winning momentum if they are to make it to the playoffs (which they last did in 2017-18).