WATCH: Oscar Robertson, LeBron James & Others React to Russell Westbrook Becoming All-Time Triple Doubles Leader
Published 05/10/2021, 10:21 PM EDT
---
---
The Wizards let go of their franchise face, John Wall, to make room for Russell Westbrook at the beginning of the 2020-21 season. Today, as the regular season reaches its completion, the DC front office cannot be more proud of their decision. This year has been a complete turnaround for Russ.
ADVERTISEMENT
Article continues below this ad
On Monday night, Russell Westbrook etched his name with golden ink in the history books of the NBA. Although the Wizards lost 124-125 to the Atlanta Hawks in a closely fought live wire game, the star point guard won a lifetime reward for his hard work.
LeBron James, Luka Doncic, and others reacted to the historic display
ADVERTISEMENT
Article continues below this ad
In the Wizards' loss, Russell Westbrook scored 28 points, 13 rebs, and an insane 21 assists to almost snatch the victory away from the Hawks. With that, he also charted his 182nd triple-double, the most in the league, beating Sir Oscar Robertson's all-time record. 
The entire league could not help but praise Russ for his gigantic achievement. Be it Luka Doncic calling it "a huge deal" or Kevin Love tagging it as an "unprecedented run", king Russ deserved all the praise. 
Also, the Big O himself praised Russ, along with Magic Johnson, LeBron James, Adam Silver, and his teammate Bradley Beal. 
This proves the importance of the achievement and just how hard it would be for anyone ever to even come near it.
Read also – Russell Westbrook Reveals He Spoke to Michael Jordan and Kobe Bryant About Being Great in the NBA
ADVERTISEMENT
Article continues below this ad
The Hawks ruined the party for Wizards' Russell Westbrook
Westbrook's missed attempt on the buzzer-beater took away the icing from his celebration cake. Even as the Wizards dropped a 45-point final quarter, the damage done in Q3 was too big to save them. They had three of their rotation players scoring in double figures, but nothing which could save them against Trae Young's big night.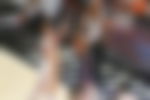 Still, the Wizards can feel good about their performance on multi-levels. One, they were playing without Bradley Beal, who is out with a hamstring strain. And two, they have a new consistent scorer in Rui Hachimura who could be a key piece if they reach the playoffs. 
ADVERTISEMENT
Article continues below this ad
But the best thing of all is that Russell Westbrook's current form can take them places, and the teams in the play-in fixture must fear that. What's your view? Can the Wizards reach the playoffs?