WATCH: Patrick Beverley Mimics Russell Westbrook After a Tough Shot During Timberwolves vs Grizzlies Game 6
Published 04/29/2022, 11:13 PM EDT

Follow Us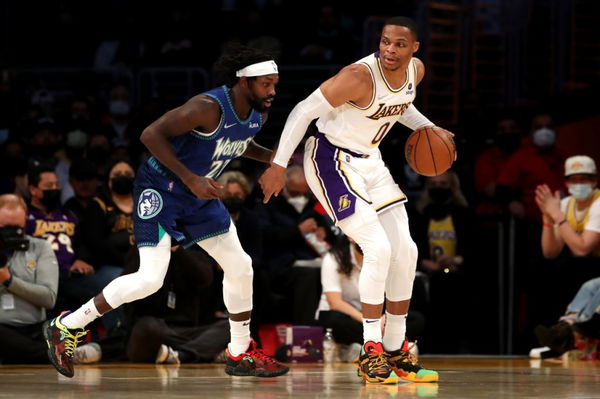 It's safe to say Patrick Beverley and Russell Westbrook don't like each other. Every time they face-off, there is always some tension in the air. Westbrook blames Beverly for injuring him in the playoffs once and he also said Beverly doesn't play any defense and he just runs around. He has hit Beverley with the 'Too Small' and 'Rock the baby' celebrations multiple times. Beverly has also trolled Russ several times, and he mocked him for not making the playoffs this year. But against the Memphis Grizzlies, Beverley took inspiration from Russ and he even hit Russ's iconic move.
The Minnesota Timberwolves took on the Memphis Grizzlies in all important game 6. The Timberwolves are fighting for their season. They will need to be at their best to get past this Memphis team. Unfortunatley, they have blown huge leads multiple times in this series and will not want to repeat that again. But Beverley ensured they will not go down easily.
ADVERTISEMENT
Article continues below this ad
Patrick Beverley copies his rival, Russell Westbrook
It was the second quarter, and there were a little over 5 minutes left on the clock. Beverley had the ball, and he saw a lane open up for him. He drove hard into the paint for he was challenged by Xavier Tillman. But Beverley wasn't fazed by being guarded by a larger defender, and he went right at him. He hit a tough layup while falling out of balance and he drew the foul as well. After the play, he got up, and he hit him with the ' Too Small' move and even 'Rock the baby' on him.
It was nice to see Beverley taking a page from Westbrook's antics. Beverley has been at the other end of those celebrations too many times. But this year, he seems to have got a little advantage over Russ. In their meetings this year, Russ has performed very poorly, and Beverley and the Timberwolves have mocked him relentlessly. Beverley also did not like it when Russ said he doesn't play any defense. He said this hampered his reputation and may have even cost him big money.
WATCH THIS STORY: Kobe Bryant's top 5 performances in the playoffs 
Edited By: Ajinkya Aswale