WATCH: Chris Paul Teaches His Son a Lesson During Free-throw Shooting Contest
Published 12/24/2020, 1:35 AM EST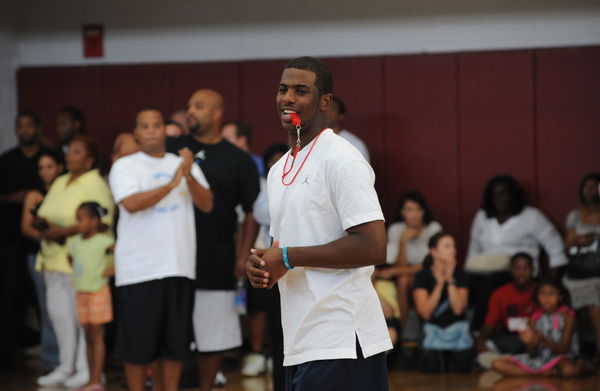 ---
---
Chris Paul is in his 15th NBA season of a very illustrious NBA career. This off-season, the 10-time NBA All-star was on the to-acquire list of almost every big market team. He finally settled with the Phoenix Suns and signed a 2-year $85 million deal with them. 
ADVERTISEMENT
Article continues below this ad
The veteran star is more than just an exceptional player for the Suns. He is in the role of a leader, a pathfinder, and a motivator who can guide the team like an on-court coach. These soft skills come naturally to the legend, and he takes his prowess back home as well.
ADVERTISEMENT
Article continues below this ad
Phoenix Suns' Chris Paul and his never-stop-mentoring self
Paul tied the knot with his partner Jada Crawley in September 2011. Before they got married, they had a son from their relationship. He is an 11-YO boy today who goes by his father's name, Christopher Emmanuel Paul II or Chris Paul, the second. 
In a recently posted video, it turned out that CP3 is the Monty Williams in his son's life. Paul shot a very candid and funny video of the father-son duo practicing hoops. In it, the star complained, "I never understand why these kids won't just be kids. This young man right here thinks that he can make more free throws in a row to me… just be a kid, you can't beat me… I've never seen you make four in a row, ever."
His son disagreed with this and tried and failed to prove his famous father wrong. Finally, giving in to the challenge, CP II accepted, "So I got four, then I sold. And we've been here in the last 10 minutes watching him make a 100 free throws in a row." 
CP3's son is already a budding sensation
Interestingly, the 11-YO kid of the B-ball great is an Instagram influencer on his own. At the time of writing this article, the little Chris Paul is 283K followers' strong. He also has a very catchy bio that says, "Chris Paul is my dad, his wife Jada is my mom. I'm kind of a big deal."
He has posted many hoop videos on his handle. One that stands out is the shoot where he is dunking on a 7ft post at that tender age of 11. It seems like the CP3 Basketball Academy is going to roll out its first Top 3 NBA Draft eight years from today.
ADVERTISEMENT
Article continues below this ad
Chris also has an 8-YO daughter, Camryn Alexis Paul. He might soon post another one-on-one video of his son and daughter playing together. Till that happens, stay tuned and keep playing hoops!
ADVERTISEMENT
Article continues below this ad
Read also – "Getting His Dad's Body": NBA Analyst Amazed with LeBron James' Son's Transition