WATCH: Devin Booker Finishes a Dunk Over Giannis Antetokounmpo But in Vain
Published 07/17/2021, 10:35 PM EDT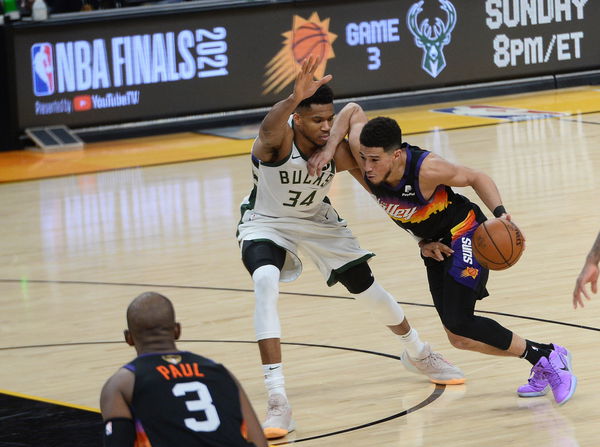 ---
---
Giannis Antetokounmpo led Milwaukee Bucks came back to the Phoenix Arena to right all the wrongs from the first two road games. Prior to the start, they received a minor blow when Thanasis Antetokounmpo entered the health & safety protocol. Those blows continued as the game began and Jae Crowder banged two daggers to get the Suns an early lead.
ADVERTISEMENT
Article continues below this ad
Hollywood star Vanessa Hudgens gave the already electrifying Phoenix crowd a post national anthem "Go Suns" cry to kickstart the game. That worked extremely well with the Orange men as they went 10/12 from the field in the first seven minutes. Devin Booker was yet again the first player to get to the double figures.
The case of Devin Booker's dunk over Giannis Antetokounmpo 
ADVERTISEMENT
Article continues below this ad
With under five minutes remaining in the first quarter, a Mikal Bridges steal off a Khris Middleton possession led to a great spectacle. #25 passed the ball to a wide open Devin Booker running alone towards the basket just as Giannis Antetokounmpo came chasing him down. It was as if the Greek Freak said "no free buckets" in his mind and tried to block the dunk. However, DBook completed a massive two-handed dunk with the officials called a back but because he landed on the wrong side. Take a look –
Had Booker made it, he could've given the Suns an 18-point Q1 lead which settled for a 16-point lead. The Suns' solo star from Game 4, Devin was a massive force, giving both Jeff Teague and Pat Connaughton a run for their money.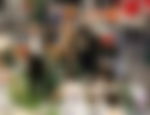 The Bucks made a crazy comeback against the Phoenix Suns
Mike Budenholzer's side placed Jrue Holiday over Chris Paul and it worked only until the Suns figured a way out. They devised two strategies to take care of this. First, they put a screen on Jrue almost every time and second, CP3 decided to enter the paint and assist the ball as effortlessly as possible. The Suns were a phenomenal defensive force in Q1 as they forced seven quick turnovers.
However, the small-ball lineup finally witnessed some grilling early in Q2 as the Bucks enjoyed a massive 29-12 beginning to the quarter. With Giannis on bench, it was Jrue in the offensive command and a show like never before.
ADVERTISEMENT
Article continues below this ad
That dominance certainly diluted the Q1 run where the Suns had scored 11 straight FGs with 100% efficacy. After Q2, the score was 64-61 in the Bucks' favor. So which side were you rooting for? Help us know in the comments below.
ADVERTISEMENT
Article continues below this ad
Watch this story – Devin Booker's Sensational Game 4 Performance and Other Notable Highlights