WATCH: Rapper Drake Has a Hilarious Steph Curry Impersonation
Published 03/16/2021, 4:35 PM EDT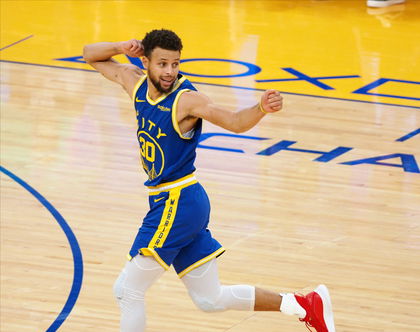 ---
---
Steph Curry is arguably one of the greatest shooters the NBA has ever seen. This season, the 33-year-old has led the Warriors to a .500 record with 20 wins and 20 losses and who currently are the 9th seed in the Western Conference.
ADVERTISEMENT
Article continues below this ad
While he might be one of the finest shooters ever, Steph certainly has an unorthodox way to shoot the ball. Understandably people want to impersonate the 2-time MVP in multiple occasions.
Drake impersonates iconic Steph Curry celebration to celebrate billboards success
ADVERTISEMENT
Article continues below this ad
The latest personality to join the list is international rapper Drake. The Canadian rapper is no stranger to NBA. A longtime Warriors fan, Drake even has tattoos of Curry and Kevin Durant.
The 34-year-old recently had an impressive feat as three of his songs topped the billboard charts. The Canadian celebrated in some style as he impersonated an iconic Curry celebration. Take a look at the hilarious impersonation.
This is not the first time that Drake has shown his admiration for Curry. Back in September 2020 during the off-season, Drake and Steph were seen having a shoot-around of their own in a gym. Although it was nowhere close, it was great to see the popstar going head on against Curry.
Can Steph lead the Warriors to a playoff spot?
The Warriors might be one of the most successful teams in the NBA last decade, but not anywhere near being the best this season. Much of it is because of such a new look roster the Dubs have.
A season-ending injury to Klay Thompson also forced the Dubs to make some moves and add a new player in Kelly Oubre Jr. The support cast around Steph so far has yielded mixed results.
While in certain games, everyone in the Dubs has an all-round game, many times it's a no-show from most of the roster. Even seasoned veterans in Dubs like Kent Bazemore and Jordan Poole are having a hit and miss season so far, leaving most of the offensive load on Steph.
ADVERTISEMENT
Article continues below this ad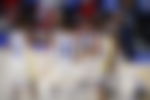 While Draymond Green has chipped in with playmaking, it is the scoring which is a big miss in this team. Andrew Wiggins and Kelly Oubre haven't been able to take the load of becoming a lead scorer, thus leaving it all for Steph.
The 33-year-old hasn't disappointed by any means and is on route to having one of his best seasons individually averaging 29.3 points, 6.2 assists and 5.3 rebounds per game.
ADVERTISEMENT
Article continues below this ad
If the Dubs don't find a solution soon, they will continue to linger in the play-in spots. With a leaky defense and mis-firing offense, the Dubs need an answer soon. Steph might drag them to the Playoffs, but coach Kerr will hope that the team steps in meanwhile.