WATCH: Russell Westbrook Gets An Emotional Tribute From Houston Rockets
Published 01/26/2021, 11:09 PM EST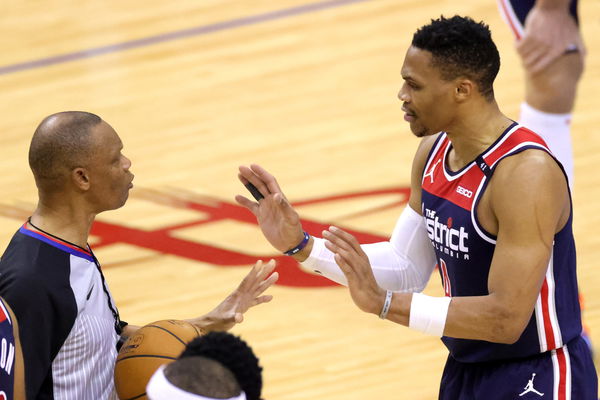 ---
---
It happened with the Brooklyn Nets' Kyrie Irving and now with the Washington Wizards' Russell Westbrook; they both received a warm welcome with a video tribute from their former franchises and then lost the game. More recently, the Rockets defeated the Wizards 107-88.
ADVERTISEMENT
Article continues below this ad
Westbrook demanded out of the Rockets during last year's off-season, and that changed many equations. John Wall and Russ swapped positions in a deal that arguably benefitted the Rockets more than the Wiz. Leaving these talks aside, it was a welcome act when the Rockets paid homage to their former player.
Russell Westbrook received a memorable welcome
ADVERTISEMENT
Article continues below this ad
It was the first time Russ was inside the Toyota Center, Houston, TX, after his trade to Washington. Just as he was prepping himself up, sitting on the bench ahead of the game, the large screen played a nostalgic video. The H-Town thanked Russ for all his contributions and applauded his presence. To this, the star athlete waved his hands and signaled that the gesture had touched his heart. 
Russell Westbrook entered the Rockets after the franchise decided that they needed to swap Chris Paul for a younger All-star. Westbrook had enjoyed three consecutive seasons, averaging triple-doubles for OKC, before joining the Rockets. However, his season with the Rockets did not end well, and it was the differences between him and other important figures that forced him to move away.
The Wizards took a big loss against the Rockets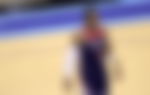 The former MVP did not have a victorious first outing at Houston. The Wizards started the first quarter with a lead but lost the following three. The Rockets' defense proved too heavy for the Wizards to break. Russ scored a 19-point double-double to help Bradley Beal's 33 point effort, but they could alone do only so much.
ADVERTISEMENT
Article continues below this ad
The shorthanded Wizards saw Isaac Bonga and Alex Len going scoreless, while all the other bench players also performed below par. The newly formed trio of John Wall, Victor Oladipo, and DeMarcus Cousins proved too huge for them to contain, and they lost yet another game.
The Wizards are now at the bottom of the table with a very slim chance of any possible comeback.
ADVERTISEMENT
Article continues below this ad
Read also – Nets' James Harden Matches Russell Westbrook in an Impressive Record