WATCH: Russell Westbrook Slaps LeBron James Several Times in Wild Celebration of Rare Lakers Win
Published 01/18/2022, 8:00 AM EST
The match between the Los Angeles Lakers and Utah Jazz went well for the Lakers as they won 101-95. In the game, LeBron James scored 25 points. A scoring performance by Stanley Johnson in the fourth quarter contributed to the Lakers' victory title.
ADVERTISEMENT
Article continues below this ad
Other players like Russell Westbrook contributed 15 points to the team. Finally, the Lakers were able to snap their three-game losing streak with this win. A 37-point loss against the Denver Nuggets in their previous game raised many questions regarding their performance. However, with this game, they showed a great deal of performance that made their show worthwhile.
At the end of the game when players came together to celebrate the Lakers' victory, we saw Westbrook slapping LeBron several times. It went viral immediately after being posted on Twitter.
ADVERTISEMENT
Article continues below this ad
In a dramatic comeback, the Los Angeles Lakers defeated the Jazz in a thrilling game             
Speaking of Jazz players, Mike Conley was one who made a great impression during the game, scoring an estimate of 20 points. Additionally, Rudy Gobert recorded a double-double with 19 points and 16 rebounds for the team. However, it wasn't enough to compete with the Lakers as both teams were neck and neck throughout the game.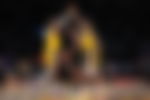 A hilarious moment was captured at the end of the game where Westbrook slapped LeBron several times in a wild celebration of a rare victory for the Lakers. 
ADVERTISEMENT
Article continues below this ad
As we talk about players like Austin Reaves and Avery Bradley playing well, Reaves provided a tip-in basket off his own miss that resulted in the Lakers making an upgrade at four. A crucial 3-pointer was made by Bradley in the corner.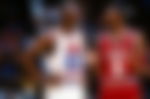 Speaking about the game, Laker players showed a fantastic performance, not only key players, but each individual contributed to the team's success. As in previous contests, the lakers had a poor time, but through today's match, they can expect to do better. Westbrook returned to form after not playing well for several games.
ADVERTISEMENT
Article continues below this ad
Let us know what your reaction was to the Lakers match.
Watch This Story: 5 players taller than NBA Legend Shaquille O'Neal