WATCH: Shaquille O'Neal Called Out Nick Jonas as Game of Thrones' Sophie Turner and Jonas Brothers Attended Premiere
Published 05/11/2022, 7:30 PM EDT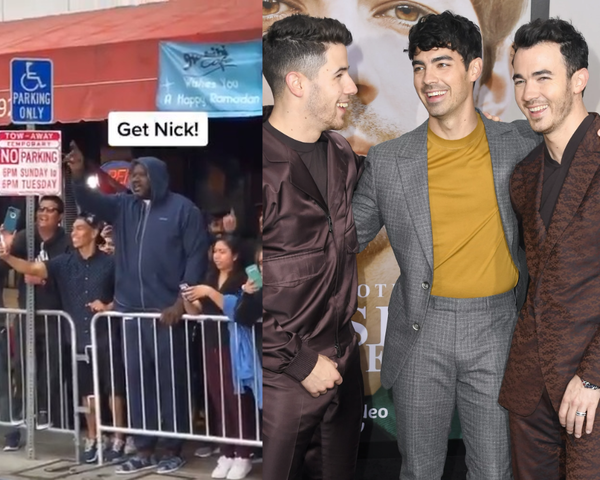 Shaquille O'Neal is the most entertaining guy that the NBA probably ever produced. The most dominant basketball player ever also dominates with his sense of humor. Shaq is absolutely hilarious and would never fail to make someone smile. The energy he radiates is just so positive that one can never dislike Shaq. He just enjoys life.
After 19 years in the NBA, Shaq retired in 2011. Ever since his retirement, he has been a generous philanthropist, owner of multiple businesses, an NBA analyst, a DJ, an actor for multiple Hollywood movies, a rapper, and whatnot.
ADVERTISEMENT
Article continues below this ad
It is like Shaq has completed life and is just doing his side quests now! Shaq has made many friends in both the NBA and Hollywood. If he admires someone or is a fan he has always spoken about it in public. Just like one time for Nick Jonas, he was literally in public proving how big a fan he really is.
 

View this post on Instagram

 
Shaq hilariously dressed like a normal person to avoid any attention towards him. Or at least he tried to. He wore a hoodie and had the cap over his head so that he became unrecognizable. The Jonas brothers and family were on the red carpet of a premiere in 2019.
As the fans chanted "Queen of the North" for Game of Thrones sensation Sophie Turner, Shaq stood innocently behind the barricading with other fans and acted like a normal civilian. He shouted and called, "Nick, Get Nick". Shaq always has his own vibe of doing everything.
ALSO READ: Shaq and Steve Harvey share a hilarious moment.
Sometimes you can't put a finger on why Shaq is funny, but he naturally is. His acting like a normal fan, in a normal outfit, and acting as a civilian waiting for the stars to wave towards him totally cracks one up.
Fans love the hilarious sight of Shaquille O'Neal of trying to act "normal"
Shaq could have very easily gone on and met the Jonas Brothers and actually, everybody around would have absolutely loved that. However, the fact that he did not is what makes the whole incident so funny. The fans had fun in the comment section of the post that posted the video from 2019.
"Lmao shaq is such a genuine guy 😂 great vibes only."
"shaq with his side quest again lmao."
"Shaq and snoop just be doing things 😂😂😂."
"Bro really trying to hide in that hoodie 💀."
"Dude is literally just doing side quests. He's definitely the main character of earth."
"Shaq is what everyone should aspire to be."
"Shaq just vibing😂😂."
"Tried to cover up best he could💀💀."
"shaq just be living life like everybody else😭🙌🏾."
"I love shaq but wtf is this fit😂😂😂😂."
"Shaq is a treasure."
"Bruh wearing a hood like we ain't gonna know it's him 😂💀💀."
ADVERTISEMENT
Article continues below this ad
"why bro acting like a civilian 😭."
"Shaq is hilarious 😂😂😂."
"why is Shaq standing over there like a regular citizen with no security? Lmao"
ADVERTISEMENT
Article continues below this ad
WATCH THIS STORY: Shaq in hilarious commercials.
Shaquille O'Neal is absolutely hilarious, and he just loves living his life. He is an inspiration not only to young basketball players aspiring to be as good as the big man at the game but also to everyone else because of how much fun Shaq visibly has in everything.