WATCH: Shaquille O'Neal Completes a Hilarious Take on the Kawhi Leonard 'Water Bottle Challenge'
Published 01/15/2021, 5:45 AM EST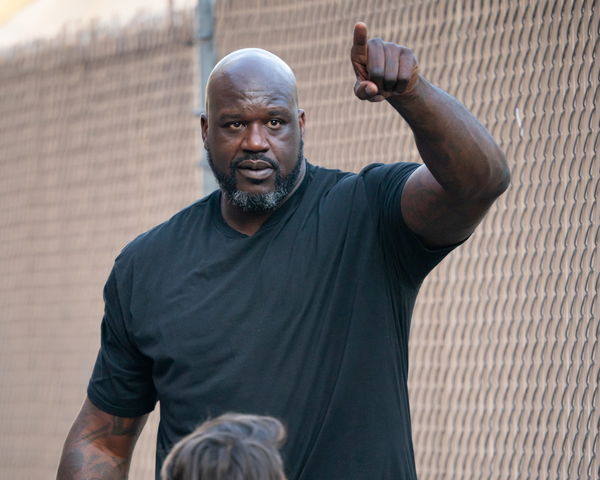 ---
---
When it comes to a massive hand spans, Kawhi Leonard dominates the NBA. Of course, there are other players with gigantic hands, but Kawhi receives so much attention to his huge palm and fingers, that Shaquille O'Neal recently decided to boast his natural gift as well! 
ADVERTISEMENT
Article continues below this ad
Kawhi Leonard is nicknamed the 'Klaw' due to his above-average hand length. It is not the normal length that one would have for his 6'7" height, but that's just how he's built.
The LA Clippers star recently went viral on the internet as he was spotted holding two water bottles in his hand and Shaquille O'Neal decided to join in on the fun! 
ADVERTISEMENT
Article continues below this ad
Shaquille O'Neal takes the water bottle challenge to a whole new level! 
Well, it should be mentioned that Kawhi Leonard did not pose a challenge to anyone when he was holding two water bottles in one hand. It just seemed to be one of his effortless tasks, but O'Neal decided to raise the stakes during a recent episode of 'Inside the NBA.' 
It should be noted that Shaquille O'Neal is also a human wonder, and that he also boasts incredibly large hands. Furthermore, Shaq's hands are a tad longer than Kawhi's and it was proven when the pair compared them a few years ago. 
Hence, based on all this, O'Neal decided to challenge Kawhi's tally of two water bottles in one and made it even better. With the help of his 'Inside' crew, the four-time NBA champion astonishingly held four water bottles in one hand, and the judging crew deemed it legal! 
Furthermore, Shaq didn't stop there and demonstrated how quickly he can chug up two water bottles at the same time. Great hydration technique, indeed! 
Well, the ball's now on Kawhi's court to respond! The 'Klaw' would take note of Shaq's crazy four-bottle challenge, however, he is unlikely to try to better it! 
Kawhi Leonard and his hands: How big are they?
ADVERTISEMENT
Article continues below this ad
Well, for starters, Kawhi's hands are incredibly large than that of a normal human's. If one demands the numbers, the average size of an adult human hand is 7.6 inches. Kawhi's just built different at a mammoth 9.75 inches! 
But Kawhi's hands aren't the longest the NBA has ever seen. Former Houston Rockets player Greg Smith holds the record for having the highest Length x width/height ratio in the NBA at 1.463. 
ADVERTISEMENT
Article continues below this ad
But Kawhi Leonard is receiving tremendous attention because he's accomplished more than the other players who had a long hand in length or width when compared to him. But can Leonard win the championship with the LA Clippers and prove the doubters wrong?
Trending Stories