WATCH: Steph Curry Dances After Hitting 3-Pointer From Logo Against Mavericks
Published 02/06/2021, 11:21 PM EST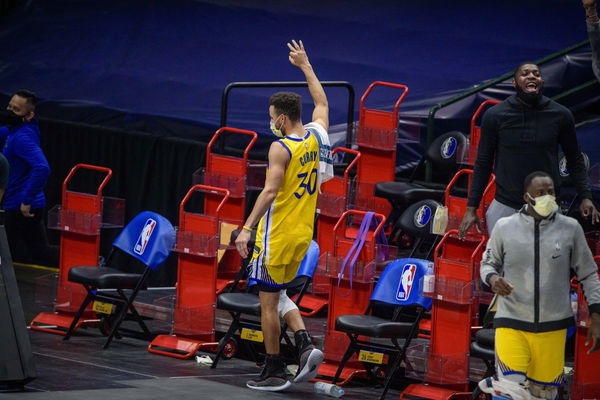 ---
---
The second game of the Dallas Mavericks vs Golden State Warriors mini-series is significant for the Mavs. They have lost ten out of their last thirteen games, and if they don't do something about it soon, they will get buried deep down in the Western Conference.
ADVERTISEMENT
Article continues below this ad
As they keep their lead in the fourth quarter, the Warriors still have Steph Curry, who could change the game in the blink of an eye. In fact, after looking at one of his three-pointers, the Mavs still have a lot to worry about till they hear the buzzer.
The magic Steph Curry can do from beyond the arc
ADVERTISEMENT
Article continues below this ad
The Mavericks couldn't have had a better opportunity for a victory than this, and they took it. The Warriors had three of their centres, Eric Paschall, James Wiseman and Kevon Looney, absent from the lineup. However, with Stephen Curry and Kelly Oubre Jr., the Warriors didn't make it any easier for them to get the win.
Steph is one of the best shooters the league has ever come across. And with many years of his career still ahead of him, he has a lot left in the bucket to show. By the time he retires, he might actually surpass all shooting records of the NBA.
One of the key factors of his greatness is his range. There is a plethora of three-pointers that occur from way beyond the arc and he showed this amazing skill against the Mavs. With about seven minutes left into the third quarter, he made a three just a few steps away from the half-court line and on the Mavs logo.
In fact, he even did a little celebratory dance after making that beautiful shot. Steph went 11-19 from the deep in this game.
Are the Golden State Warriors a threat in the West?
As long as the Warriors keep their roster healthy, they are definitely a team to look out for. To everyone's surprise, they have been climbing up the Western conference board with an eighth standing.
ADVERTISEMENT
Article continues below this ad
Nobody could believe that they had it in them to become title contenders without Klay Thompson, but here we are. Steph has had some really big nights in the season so far and with a lot of games still left, he surely has a lot more to showcase. Other than his stellar shot, he finished the game with 57 points.
However, it looks like it wasn't enough to hold off Luka Doncic. He ended up with 42 points,11 assists, and 7 rebounds, and with major contributions from the supporting cast, the Mavericks got the victory with a 134-132 score. Next up, they have the San Antonio Spurs against them. What will Steph have in store for us then?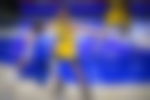 Read also- Steph Curry and LeBron James Ready to Move On From Intense Rivalry
ADVERTISEMENT
Article continues below this ad