WATCH: Steph Curry Humorously Hypes Up LeBron James During His Pre-Game Chalk Toss
Published 03/09/2021, 12:13 PM EST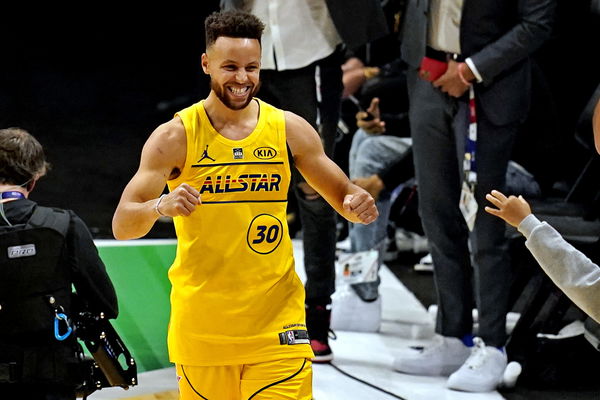 ---
---
The 2021 NBA All-Star Game was a treat to NBA fans. Never before have we witnessed LeBron James and Steph Curry team up together at the ASG, and it was everything that one imagined! 
ADVERTISEMENT
Article continues below this ad
LeBron and Steph have been the respective captains of their teams before, but 2021 saw Curry being drafted by James in what was his 17th straight All-Star game appearance. Both athletes were overjoyed with each other's presence on the court, and it was also proven that they're unbeatable! 
Steph Curry gleefully waited for LeBron James to perform his chalk toss!
ADVERTISEMENT
Article continues below this ad
NBA players have their own pre-game rituals which they like to follow. In LeBron's case, the chalk tass at the sideline is a tradition that's been fading from his career. However, the 36-year-old brought it out at the 2021 All-Star game! 
What added to the beauty this time is that James had Curry standing beside him like an exuberant kid watching a trick! "I ain't been this close to this ever," Curry grinned as he watched James perform the iconic ritual. 
Right after that, 'Team LeBron' showed 'Team Durant' no mercy. The chalk toss didn't make LeBron James lash out on the offensive end, but it gave Curry an extra motivation to display his shooting prowess. 
Steph Curry and Damian Lillard were on fire at ASG 2021, as both guards launched 16 three-point attempts each. What was more fascinating is that both Curry and Lillard shot 50% from deep and made similar logo shots to put on a show. 
The last time LeBron performed his chalk tass ritual, he went off for 46 points! 
Yes, that's right. The chalk toss tradition has become a rarity since LeBron James joined the Lakers, but he has been producing it at the right moments. Before the All-Star Game, LeBron last performed the on-court ritual on January 25 on a road game against the Cleveland Cavaliers! 
ADVERTISEMENT
Article continues below this ad
It was an iconic moment as LeBron had performed this ritual several times wearing a Cavs jersey. But it was a homecoming with a different team, and the tradition had to be followed. 
LeBron also pounced on a weak Cleveland team and finished with 46 points, eight rebounds, and six assists. Was it due to the chalk toss? Maybe, but a Cavs front-office member certainly fueled inside LeBron James! 
ADVERTISEMENT
Article continues below this ad