WATCH: Stephen Curry's Single Handed Magical Offense Leaves Blazers' Rattled
Published 01/02/2021, 3:08 AM EST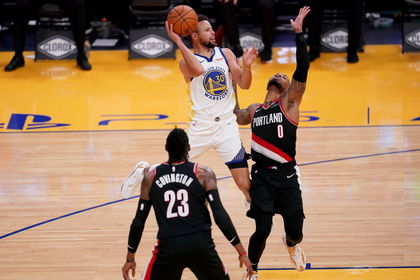 ---
---
The Golden State Warriors are 2-3 so far. They were first demolished by the Brooklyn Nets and then humiliated by the Milwaukee Bucks. Even the match they won against the Chicago Bulls was a close call. And facing a team like the Detroit Pistons had to result in a win.
ADVERTISEMENT
Article continues below this ad
Even though they didn't win their 5th game of the season against the Portland Trail Blazers, we saw Stephen Curry showoff some brilliant moves on the court.
Stephen Curry and his impressive moves
ADVERTISEMENT
Article continues below this ad
In between all the talks about whether Curry is still one of the top point guards in the league, he proved that he undoubtedly is in the game against the Blazers. Although the Blazers had a great lead in the first quarter, Steph was doing all he could to cut that down.
He displayed his elite ball-handling skills when he crossed over the Blazers' center Enes Kanter through a shift and changed his direction while going for the basket.
The Blazers' defense could do nothing but look at him go. It was as if they were frozen. This led to him decreasing their lead to 13 points.
In fact, he even scored buckets that one would never expect to go in. Thus, proving what he is capable of.
Where are the Warriors lacking?
ADVERTISEMENT
Article continues below this ad
The absence of their star player Klay Thompson can be felt every step of the way. Although Kelly Oubre Jr. was brought in to fill that void, it's just not the same without Thompson. It's not easy to watch the Warriors' downfall after terrorizing the league with their dominance in some previous seasons.
They're missing out on simple wide-open shots, their defense is not intact and all in all, they just look rusty. When Draymond Green finally returned to the court, a ray of hope could be seen. However, players like Andrew Wiggins, who were expected to step up, have not been obliging.
If the Warriors don't get back on track, the other teams will eat them alive. One can only hope that this is just a minor hiccup as the season has just started. How far can Stephen Curry lead his team?
ADVERTISEMENT
Article continues below this ad