WATCH: Suns' Devin Booker Shows Off His Handles Before Draining a Three in NBA Finals Game 2
Published 07/08/2021, 10:27 PM EDT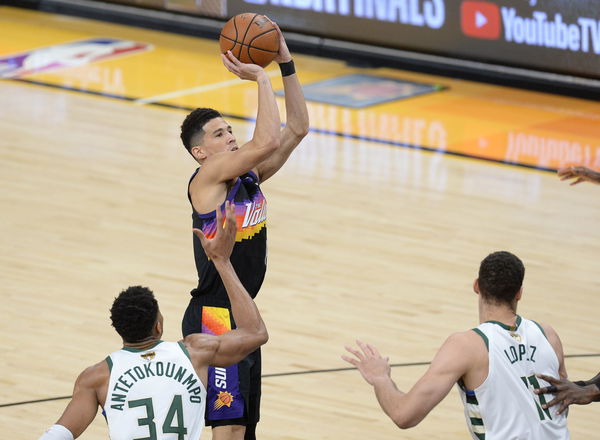 ---
---
The 2020-21 NBA Finals between the Milwaukee Bucks and Phoenix Suns tipped off with a thrilling game 1 that had Chris Paul lead Phoenix to a 118-105 victory. And now that Game 2 is already here, the Bucks are hoping to even the series with a win in Phoenix. But just like the first game, both teams are going head to head in dropping buckets in the first half. Especially Devin Booker, who put Jeff Teague in a confusing spot with his moves.
ADVERTISEMENT
Article continues below this ad
Devin Booker has got some moves
During Game 1, the Suns had focused on limiting their turnovers and took advantage of all the free throws they got as they dropped 25 of 26. Other than that, their trio Chris Paul, Devin Booker, and DeAndre Ayton had fantastic performances. Both Booker and Ayton compiled 49 points, while CP3 alone had 32 points under his name.
ADVERTISEMENT
Article continues below this ad
On the other hand, the Bucks were relieved to see their star player Giannis Antetokounmpo showing no signs of struggle because of his knee injury. This had everyone assured that the Milwaukee Bucks will give them a run for their money. But as game 2 progresses, the Suns look determined not to break their momentum from the last game.
And after seeing Devin Booker make a fool of Jeff Teague on the three-point line and dropping a shot, it was confirmed that the Suns will continue to give Bucks a rough time.
WATCH THIS STORY: From Giannis Antetokounmpo's Return to Chris Paul's Incredible Performance: Milwaukee Bucks vs Phoenix Suns NBA Finals Game 1
Phoenix Suns lead the way in the first half
The Bucks looked very aggressive on both ends as the game started off, especially Jrue Holiday. They continued to target the paint as they do, but the Suns kept themselves at arms' length with their three-point shooting. In fact, the Phoenix Suns were just not missing the threes they were dropping.
ADVERTISEMENT
Article continues below this ad
With the game at halftime and Suns holding a 56-45 lead, surprisingly, Mikal Bridges is the lead scorer with 13 points. Booker is right behind him with 10 points. As always, the Bucks only had Giannis in double-digits and need to return to attacking the paint like they started off with.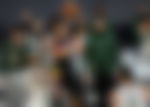 It's the second quarter that the Bucks started slacking in. While the Suns used it to add 30 points to their scoreboard, the Bucks only had half. If Milwaukee doesn't "Buck" up, they will let the Suns have a comfortable lead. Also, this will only bring the Suns closer to putting an end to this in four games, as most fans and analysts are predicting.
ADVERTISEMENT
Article continues below this ad