'Lakers in 6′: How NBA Twitter Reacted Lakers' Surprise Signing of Carmelo Anthony
Published 08/03/2021, 4:58 PM EDT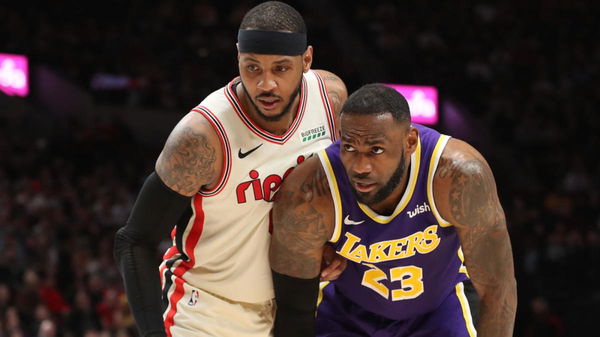 ---
---
The Los Angeles Lakers are not wasting any time this free agency, aggressively pursuing knockdown shooters & more. As it looks like, they might have just bagged a steal. Carmelo Anthony is a Los Angeles Laker. Senior NBA insider Adrian Wojnarowski just dropped another Woj bomb on a packed morning stating that Hoodie Melo has finally agreed to a 1-yr minimum deal with L.A.
ADVERTISEMENT
Article continues below this ad
Now while Melo isn't the franchise star he was years ago in New York city, he does possess the key to the Lakers' biggest issues in shooting and bench strength. Melo is likely to assume a bench role, driving the scoring punch with the 2nd unit. However, Anthony's numbers in the postseason have been anything but encouraging.
ADVERTISEMENT
Article continues below this ad
His 3pt shooting which was at a career high 40% in the regular season, dipped to 35.7% in the series against Denver. Will LeBron's Midas touch turn back the time for Anthony, who's best days certainly look well behind him?
How Did the Laker Nation react to this on Twitter?
Carmelo Anthony has been one of the front runners to don the purple and gold since the start of this free agency. He also received interest from his former team in the New York Knicks, but a chance to win his first championship may have been the deciding factor in his move to La La Land.
Here's how Twitter reacted to Hoodie Melo making a move to Hollywood
Oh. Lakers in 6!!! Carry on…

— Kendrick Perkins (@KendrickPerkins) August 3, 2021
CARMELO ANTHONY.
LEBRON JAMES.
ANTHONY DAVIS.
RUSSELL WESTBROOK.

ALL ON THE LAKERS.

WHAT A TIME TO BE ALIVE 🤯🤯🤯

— Lakers All Day Everyday (@LADEig) August 3, 2021
Lakers fans have been photoshopping Lakers jerseys on Carmelo Anthony for a decade. This was from 2010. They don't have to anymore. pic.twitter.com/myQyreZs2I

— Arash Markazi (@ArashMarkazi) August 3, 2021
In a span of one week LeGM and Rob Pelinka got us Westbrook, Howard, Melo, Bazemore, Ariza, Ellington and Malik Monk! Get Rob on the phone!

— 𝐏𝐚𝐩𝐢𝐫𝐚𝐭𝐞 (@papyfaye1) August 3, 2021
If Vogel can build a top-10 defense with this team then sign that man to a lifetime extension.

— Matthew Peralta (@_MatthewPeralta) August 3, 2021
Carmelo Anthony — 37 years old
LeBron James – 36 years old
Trevor Ariza – 36 years old
Marc Gasol – 36 years old
Dwight Howard – 35 years old (turning 36 Dec. 8)
Wayne Ellington – 33 years old
Kent Bazemore – 32 years old
Russell Westbrook — 32 years old

— Arash Markazi (@ArashMarkazi) August 3, 2021
ADVERTISEMENT
Article continues below this ad
In summary, are the Lakers just too old to compete at the highest level in the postseason? Is the firepower they've signed good enough in reality as on paper? What about shooting? What happens to the defense now? Will injuries plague yet another season, given the older veterans on this roster? Is this another repeat of 2004/2012?
ADVERTISEMENT
Article continues below this ad
Laker Nation and the NBA fraternity in general are split over Pelinka's decisions over the last few days. Is that all going to change as soon as all this talent steps on the court? However, it's up to head coach Frank Vogel, LeBron James and Anthony Davis to make it all work as they eye another journey to the promised land.
Watch this story – Wearing A Kermit Drinking Tea Hat, Calling Out His Space Jam 2 Critics & Other Ways LeBron James Trolled His Haters