WATCH: Warriors vs Mavericks Heats Up During WNBA Game As Dallas Fans Diss Jordan Poole and Gary Payton II Before Game-3
Published 05/22/2022, 8:55 PM EDT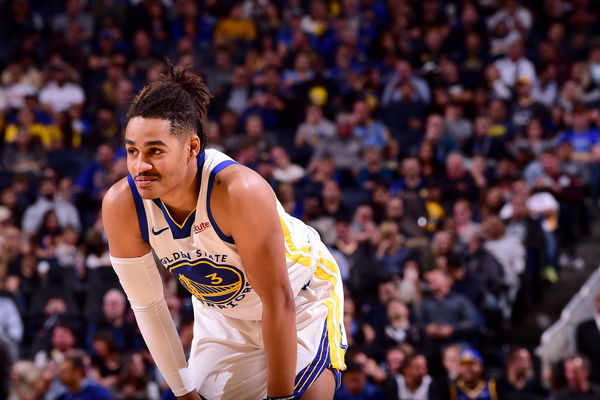 Game 3 of the Western Conference finals between the Golden State Warriors and the Dallas Mavericks just got more exciting after Warriors' guards Jordan Poole and Gary Payton II were booed during a WNBA game between the Dallas Wings and the Minnesota Lynx.
The duo attended the game between the Wings and the Lynx in Dallas before their encounter with the Mavericks at the American Airlines Center. And the fans didn't provide them with the warmest of welcomes.
ADVERTISEMENT
Article continues below this ad
The Golden State Warriors are currently 2-0 up against the Mavericks. They didn't falter to hold serve in their first two home games at San Francisco. Therefore, it was quite natural for the Dubs guards to be in a relaxed mood.
Dallas Mavericks fans boo Jordan Poole and Gary Payton II
Jordan Poole and Gary Payton II were sitting courtside at the Wings vs Lynx game. The moment the giant screen featured them, the fans started booing and jeering at them.
Gary Payton II and Jordan Poole pulled up to the Lynx-Wings game tonight and Wings fans didn't give them a warm welcome 😂 pic.twitter.com/FjEHOVZr4e

— Bleacher Report (@BleacherReport) May 22, 2022
The commentators pointed out that the Warriors are currently ahead. But Dallas fans couldn't care less.
The Mavericks suffered a blowout 112-87 loss against the Warriors in the first game of the series at Chase Center. They showed up with determination in the next game to level the series on the road.
In fact, they led the Warriors by as much as 14 points in the first half. But the Warriors displayed their championship pedigree and came back in the second half to win the game.
The Mavericks face an uphill task before the start of game 3 at home. But Dallas fans still believe in their team's chances because the Mavs secured a win from a similar position against the Phoenix Suns in the Western Conference semifinals.
The Warriors are ready for game 3
It is quite natural for Dallas fans to be confident in their team. Because the Mavericks absolutely vanquished the team with the best record in the NBA from their own gym.
ADVERTISEMENT
Article continues below this ad
But the Warriors are a much more experienced side than the Suns. They have 3 NBA championships on their resume.
Jordan Poole wasn't a part of the Warriors' championship victories. But with an average of 19.5 points in the playoffs so far, he's proving to be an integral part of a legitimate championship-caliber team.
ADVERTISEMENT
Article continues below this ad
Watch this story: Charles Barkley Demands Commercial Break on "Inside the NBA" to Smack a Little Kid After Blatant Disrespect
Can he harness the boos as motivation for game 3? Only time will tell.
Edited By: Arunaditya Aima