WATCH: When Kobe Bryant Remembered Michael Jordan After a 1-o-1 with Phoenix Suns' Devin Booker
Published 02/10/2021, 10:21 PM EST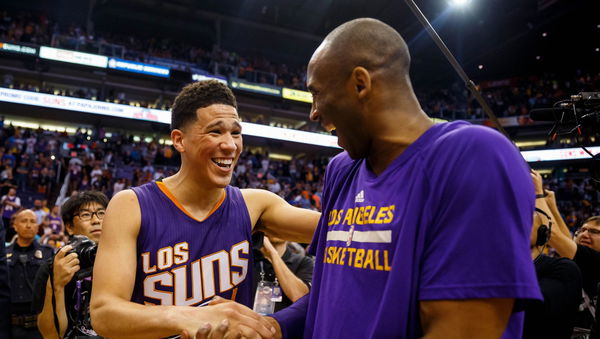 ---
---
Karl-Anthony Towns, D'Angelo Russell, and Kristaps Porzingis were amongst the Top Four picks in the NBA 2015 Drafts. They were all lucky as they started the same year Kobe Bryant was about to drop the mic. But there was one name from Kentucky who was about to reap the most benefit. That name is Devin Booker.
ADVERTISEMENT
Article continues below this ad
Although the 13th overall pick, Devin had everything in him to perform as the lottery picks would. Lakers' Kobe, upon their first and only meeting, recognized his potential. The two shared just one evening under the same roof that changed the life of a young rookie forever.
How did Michael Jordan enter the conversation between the two?
ADVERTISEMENT
Article continues below this ad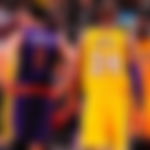 It was March 23, 2016. Kobe Bryant was playing his career's final game against the Phoenix Suns while Booker was playing his first against him.
The Suns won that game 119-107 with the rookie dropping 28 points, 3 rebs, 7 assists, 1 steal, and a block in 41 mins. The Black Mamba could only add 17 points in his 28 mins, but it was the duel between the two that remained the highlight. 
At one point, Booker guarded Kobe and ensured he did the best defense of his life. He remembered, "I went right to his move. I went right to the Kobe fadeaway."
The Black Mamba could not convert his attempt, and that's when he noticed the youngster.
Kobe told him later, "You know what? I did the same thing when I matched up with MJ the first time." Later, Booker skipped his post-game ice bath to meet an invitation from Kobe to talk to him. The rising star added, "Straight to the shower, straight to the visitors' locker room… and I thought it was going to be a two-, three-minute convo, and it ended up being 15, 20 minutes postgame." 
Just imagine how those 20 minutes shaped Devin into the kind of player he has become today.
Kobe Bryant went a step ahead to make that meeting memorable for Devin Booker
As if that comparison with a young Kobe and those minutes of sharing 20 years' worth of wisdom was not enough, Kobe gifted Devin something.
ADVERTISEMENT
Article continues below this ad
He signed the Basketball sneakers for Devin Booker. As the Phoenix Suns star recollected, "One shoe said, 'To the young one,' and the next one was, 'To Book, be legendary,'" Booker says, smiling at the memory. "He didn't only just write 'be legendary,' he told me what it was going to take to get there. … He told me I have the footwork, I have intangibles to be legendary. It's finding more and wanting more and going to get more."
The 6'5" shooting guard has never averaged below 22 ppg after his rookie season ended. In fact, he has become a more lethal weapon, playing under the leadership of Chris Paul and increasingly getting efficient at both ends.
He is surely en route to match the legacy of the late Lakers' legend.
ADVERTISEMENT
Article continues below this ad
Read Also – "Devin Booker is Like a Mini Kobe Bryant": Max Kellerman and Kendrick Perkins Label Phoenix Suns a Problem for the West