WATCH: When LeBron James and the Late Larry King Teamed Up to Hoop
Published 01/23/2021, 11:58 AM EST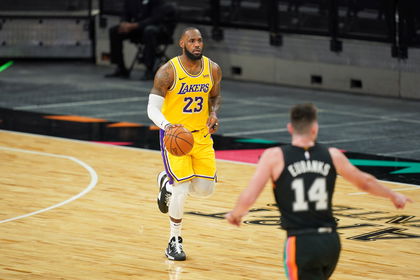 ---
---
Iconic media personality Larry King passed away due to health complications on Saturday morning. King hosted "Larry King Live" on CNN for more than 25 years and interviewed athletes like LeBron James during his time as a talk show host. 
ADVERTISEMENT
Article continues below this ad
Larry King was a true giant in the broadcasting industry and he will go down as one of the best to ever do it. Back in 2010, King thrilled the world when he interviewed a young LeBron James, and there was also a twist in the segment. 
LeBron James and Larry King shot hoops together
ADVERTISEMENT
Article continues below this ad
2010 was the year when NBA fans were awaiting 'The Decision.' For those who aren't familiar, it was a show on ESPN where LeBron James announced his NBA future as a free-agent. Basically, the world wanted to know if he was staying in Cleveland or signing with a different team. 
Media outlets were locked in on LeBron, and CNN tried to break the ice by asking Larry King to interview LeBron James about the matter. LeBron successfully evaded by zipping his mouth when it came to his NBA future, and moreover, made a then 76-year-old King play some hoops with him.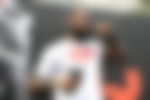 The pair went to a lush green court that was named after 'King James,' and got to business soon after. The NBA star then proceeded to coach Larry King about shooting and got him to attempt everything; from free throws to layups and jumpers! 
One could see through the video as to how much of an energetic personality Larry King was. He was hooping with the world's best player in his 70s and earned the respect of the NBA player.
CNN honor Larry King through a profound statement
Larry King established a name for himself in the industry and the Brooklyn native spent 25 years with CNN before stepping down. However, King did not put a halt to his career after signing off as the host of his talk show, as he continued to appear on special occasions. 
ADVERTISEMENT
Article continues below this ad
King battled a number of health problems, including COVID-19. After years of struggle, the 87-year-old passed away at the Cedars-Sinai Medical Center in Los Angeles where he was being treated. 
CNN's President Jeff Zucker issued a statement to honor Larry King, which read: "The scrappy young man from Brooklyn had a history-making career spanning radio and television. His curiosity about the world propelled his award-winning career in broadcasting, but it was his generosity of spirit that drew the world to him.
"We are so proud of the 25 years he spent with CNN, where his newsmaker interviews truly put the network on the international stage. From our CNN family to Larry's, we send our thoughts and prayers, and a promise to carry on his curiosity for the world in our work."
ADVERTISEMENT
Article continues below this ad