WATCH: When LeBron James Stared Down at Michael Jordan While Destroying His Team in Playoffs
Published 03/08/2021, 4:30 PM EST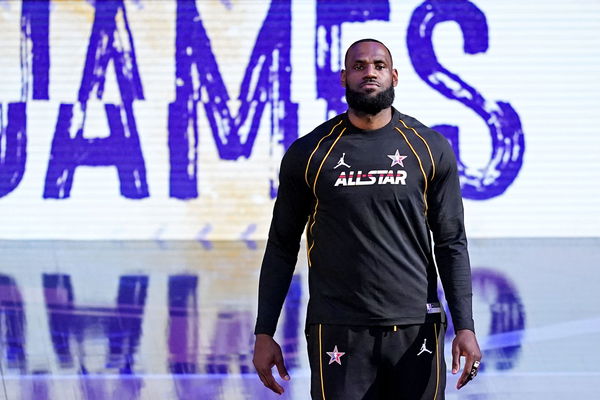 ---
---
LeBron James with the Miami Heat was just different. He was peaking in his career during his time in Miami and wowed the league with displays of his dominance. James feared no one when he was with the heat and even had the audacity to taunt Michael Jordan! 
ADVERTISEMENT
Article continues below this ad
It is such a classic tale. Though LeBron James grew up idolizing Michael Jordan, he always believed that he could one day eclipse the latter's achievements. James has immense respect for Jordan, but none of that stuck with him when the Miami Heat took on MJ's Charlotte Bobcats in the 2014 playoffs. 
LeBron James raised the roof by staring down at Michael Jordan
ADVERTISEMENT
Article continues below this ad
This incident will forever be remembered in the NBA folklores. The best in the league staring down at the greatest player the NBA has ever seen. These moments don't happen much often and that's why it deserves to be relived once more. 
The Miami Heat played the Charlotte Bobcats on April 26, 2014, when this incident took place. It was Game 3 of the playoffs' first-round and the Heat came into the fixture carrying a comfortable 2-0 lead in the series.
Miami knew they had the series in the bag and it was just a formality to play out the remaining two games. LeBron James performed a sick dunk in the third quarter of Game 3 and the slow-motion replays found something amazing. 
As James lept up to dunk the ball, he could be seen staring at someone in the front row. As it turned out, James had placed his attention on Michael Jordan while making the dunk. It seemed like a statement of some sort. 
Jordan was sitting at the end of the Bobcats bench and he had a coy look on his face after James' dunk. He could do nothing but look at his team losing miserably. 
The Heat's main aim was to sweep the Bobcats
The Miami Heat achieved what they wanted in their playoff series against the Charlotte Bobcats. LeBron James and Miami required only four games to eliminate their opponents, who could not match up to the intensity back in 2014. 
"We were locked in on what needs to be done and our keys to win this game," James said after Game 3. 
ADVERTISEMENT
Article continues below this ad
"You don't want a series to go longer than it needs to," Miami Heat head coach Erik Spoelstra added. 
Hence, Miami came into the series thinking about a sweep and they were successful with their objective. LeBron James went for 30+ points in three out of the four games against Charlotte. 
ADVERTISEMENT
Article continues below this ad