WATCH: Zach Lavine With a Hilarious Gesture to Luka Doncic After He Ousts Michael Jordan in Triple Double Record
Published 01/18/2021, 10:30 AM EST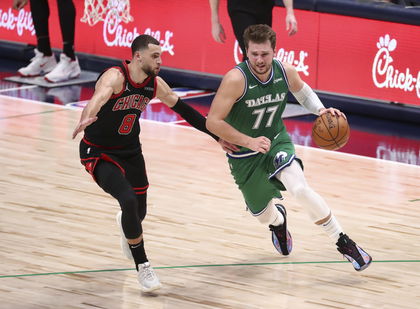 ---
---
The Dallas Mavericks may have lost to the Chicago Bulls, but their star player Luka Doncic continued his magical 2020-21 season. In his latest accomplishment, he surpassed their franchise's legend Michael Jordan in an incredible record.
ADVERTISEMENT
Article continues below this ad
Mavericks' superstar surpasses Michael Jordan
How often can a player say that they've beat Michael Jordan at something? Well, Doncic may not be even half of what Jordan was at this point, but he is establishing himself as one of the best in the league of this generation.
ADVERTISEMENT
Article continues below this ad
Dallas suffered a blowout loss against the Bulls with a score of 117-101. The Bulls finally ended their four-game losing streak, trying to make their way up in the East with a 5-8 record. However, it's fair to say that Luka's achievement overshadowed Bulls' triumph.
He finished the game with 36 points, 16 rebounds, and 15 assists, becoming the youngest player to achieve these marks. In fact, even the Bulls star point guard, Zach LaVine, has great respect for Luka and tried to cool his hand after he broke MJ's record during the game.
As the Mavericks continue to struggle in this season, Luka Doncic is still glowing. Not only is he winning hearts like the last season, but he is also etching his name in the history of the NBA.
Can Luka Doncic become the MVP?
ADVERTISEMENT
Article continues below this ad
It's hard to find a 21-year-old who has been as impressive as Luka in the NBA. Sure, LeBron James led the Cleveland Cavaliers to the Finals when he was 22. Kevin Durant had a scoring title with him when he was 21. However, did they have the same vision and skill-set as Luka? The topic is debatable.
Even before the 2020-21 season began, Luka is listed as the favorite to win the MVP this season. So far, LeBron James is leading the board in the MVP race because of the Los Angeles Lakers' success. However, when the realization hits as to how much the Mavericks rely on Luka, the trend might go in a different direction.
Dallas needs to step up if they want to be title contenders. The Western Conference is very competitive this year, and Luka alone can take this team so far.
ADVERTISEMENT
Article continues below this ad