Waves, Blocks, and Hard Fouls – A Brief History of the Russell Westbrook – Joel Embiid Beef
Published 05/24/2021, 1:30 PM EDT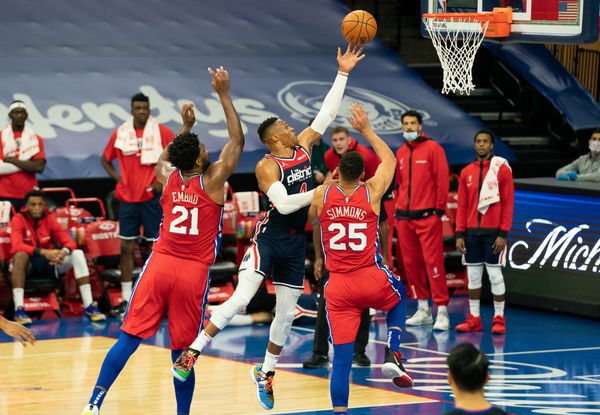 ---
---
The Washington Wizards began their playoff series against the Philadelphia 76ers yesterday. The 76ers were able to get the win over the Wizards, thanks to the performance of Tobias Harris. But that wasn't the biggest storyline going into the game. That would be the continuation of the Russell Westbrook – Joel Embiid feud. The rivalry has been building for almost three and a half years. But how did it all start?
ADVERTISEMENT
Article continues below this ad
The Russell Westbrook – Joel Embiid rivalry began with a wave
One has to go all the way back to 2017. During a regular-season game, Joel Embiid took on the Oklahoma City thunder. During the game, he got Steven Adams in foul trouble and waved the New Zealander off the court when he got fouled out. However, Russell Westbrook would have the last laugh, as he and OKC won the game. After the game, he waved Embiid off the court, mocking him for waving at Steven Adams earlier in the game.
ADVERTISEMENT
Article continues below this ad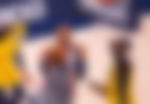 In their next encounter, Embiid got a measure of revenge over Westbrook, posterizing him with an incredible slam on the court. They then took their rivalry to the 2018 All-Star game. Embiid was a first-time All-Star, whereas Westbrook was a perennial All-Star and reigning league MVP at the time. During the All-Star game, Embiid made a three-over Westbrook and then rushed down the other end of the court to block a Westbrook attempt.
Things get violent between the duo
The feud escalated two years ago, during another regular-season encounter between OKC and Philly. Westbrook was charging to the basket, and Embiid checked him with a very hard foul. Westbrook went down hurt, but when he got back up, he wasn't happy. After the game, Westbrook made it clear that he wasn't cool with Embiid and what he was doing. And Embiid stoked the fire, questioning why Westbrook was always in his feelings.
ADVERTISEMENT
Article continues below this ad
ADVERTISEMENT
Article continues below this ad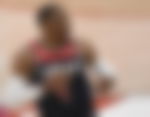 This series will give fans an extended look at the Embiid-Westbrook rivalry. The two will play at least four games against each other. And smart money suggests that things will get a little heated between the two. Both players are extremely hungry, competitive, and passionate. So there is a very strong chance that they will get into it during the series. But neither will be happy unless they can come out on top in this first-round series.