"We Can't Catch a Break WTF": 3x NBA All-Star Gearing Up for Season Debut on Friday Leaves Lakers Fans in Disbelief
Published 12/01/2022, 11:44 PM EST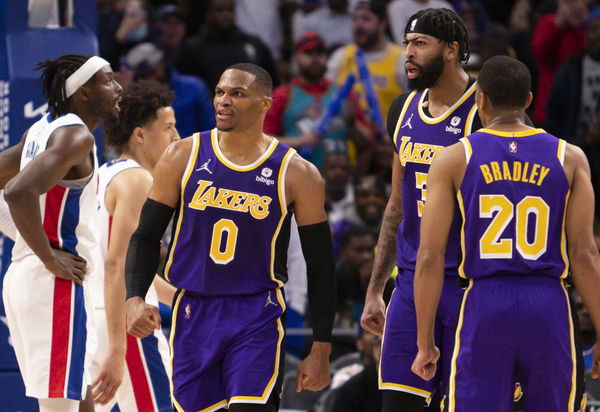 Three-time NBA All-Star Khris Middleton is reportedly set to make his 2022-2023 season debut. Middleton is expected to return to the court from injury on Friday against the Los Angeles Lakers. As the news emerged, there appeared to be a feeling of disbelief among Lakers fans, one of the key reasons being Khris Middleton and Giannis Antetokounmpo's exceptional records.
Middleton scored 20.1 points, 5.4 rebounds, and 5.4 assists per game last season, making him a key performer for the Milwaukee Bucks. Throughout, his career he has played 651 games scoring 17.1 points, 4.9 rebounds, and 3.8 assists per game with a field goal percentage of 45.8. However, he has been recovering from surgery on his left wrist since July.
ADVERTISEMENT
Article continues below this ad
READ THIS STORY: "This One Hurts": Anthony Davis, LeBron James, and NBA World in Utter Dismay Over "Heartbreaker" at the Buzzer vs Haliburton's Pacers
Middleton's comeback was first reported by NBA Insider Adrian Wojnarowski. However, it appears that Lakers fans are not happy. One of the main reasons is that the team has had a season full of ups and downs, and with Middleton's return to the Bucks, things might get difficult for LeBron James and co. One of the fans said, "We can't catch a break Wtf."
ESPN Sources: Milwaukee Bucks All-Star forward Khris Middleton plans to make his season debut vs. the Los Angeles Lakers on Friday (ESPN, 7:30 PM ET). Middleton has been recovering from July surgery on his left wrist. The Bucks are 15-5, second in the East.

— Adrian Wojnarowski (@wojespn) December 1, 2022
Here are some of the reactions from NBA Twitter:
Every team in the league treats playing the lakers like it's an nba finals game 7 😭 it's getting old

— HawksRingSZN (@joedeertay5) December 1, 2022
of course… it would be against the lakers

— 𝐸𝓁𝒾𝒾 (optimistic heat fan) (@_itzeliii_) December 1, 2022
Middleton is returning after needing surgery on his wrist during the off-season in July.
ADVERTISEMENT
Article continues below this ad
What makes Khris Middleton a threat to the Los Angeles Lakers?
The Milwaukee Bucks currently sit in the second position on the Eastern Conference table with a 15-5 record so far. On the other hand, the Lakers sit in 13th position on the Western Conference table with an 8-12 record. One of the key reasons for the Bucks' success is their dominant offense. And with Middleton's presence on the team, it'll undoubtedly give a lot of added strength to an already-strong line-up. And at the same time can possibly help take off some of the load from Giannis Antetokounmpo. The 'Greek Freak' has scored over 30 points in each of his last five games.
On the other hand, the Los Angeles Lakers' key shortcomings this season have arguably been their defense. And on Friday when they will face the Bucks, it'll be interesting to see what strategy LeBron James and co. comes up with. However, for Bucks fans, it is delightful news and they will be hoping that the team adds another win and continue their current three-game winning streak.
ADVERTISEMENT
Article continues below this ad
WATCH THIS STORY: Top 5 NBA signature celebration moves, LeBron James, Stephen Curry, Michael Jordan, and more
How do you think Khris Middleton's presence will affect the game? Let us know in the comments section below.