"We Don't Have a Cure..": Magic Johnson Wanted to Commit Suicide Before Doctors Blurted Out Big Truth During HIV Divulgence
Published 02/04/2023, 4:30 PM EST

Follow Us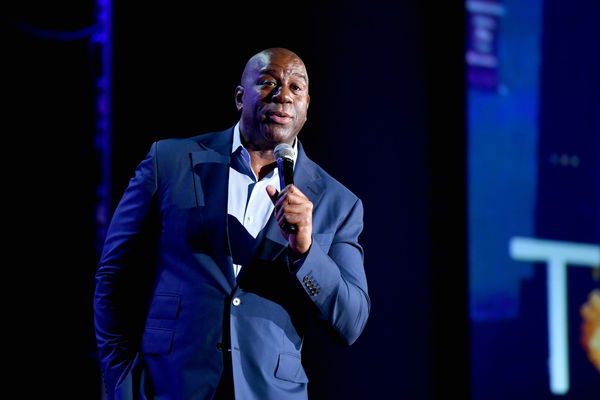 The playing career of NBA legend Magic Johnson was cut short because of his HIV diagnosis. The Los Angeles Lakers legend found out about the infection after a routine blood test in 1991. Soon after the diagnosis, the five-time NBA champion announced his retirement from the league. His teammates and sports fans around the world could not believe what unfolded in front of their eyes. Many felt that Magic could have played at least four or five more seasons if it wasn't for the disease. However, according to a recent revelation, Magic Johnson contemplated suicide at one point in time after the diagnosis but fortunately changed his mind afterwards.
At the time, there was not much understanding of the disease and the medical advancements were not great as well. So Johnson and his family were shaken by the revelation.
Magic Johnson once contemplated suicide after his diagnosis
ADVERTISEMENT
Article continues below this ad
According to reports, doctors thought Magic Johnson only had two to three years to live after the infection. This was a huge blow for Magic who contemplated suicide after hearing this. Lon Rosen, the Lakers icon's agent at the time, revealed in the documentary They Call Me Magic, "At one point, [Magic] said, 'I don't know if I want to live, I might just end it, I might just…"
However, he stood firm with the support of his wife Cookie. Cookie Johnson gave an interview to The New York Times in 1996 during which she talked about a variety of topics, including her husband's health. In one instance, she talked about the doctor's statement.
"After the first emotional week I started going, 'O.K., we've got to take action on how to keep Earvin healthy,' " she recalled. "The doctors said, 'We don't have a cure yet, but we're working on sustaining people and these are the things you can do.' And we got into the research. Working out and eating the right foods to boost the immune system."
ADVERTISEMENT
Article continues below this ad
Cookie has been making sure over the years that Magic follows the fitness and diet regimen to help him be healthy. With his wife's help and his determination, the three-time NBA MVP has beaten all odds and lived a healthy life so far. He has also been extending his helping hand to HIV-infected people around the world with his charities.
A huge sigh of relief 
Magic Johnson's wife Cookie stood with her husband amidst all the controversy, mayhem, uncertainty, and risks. Just weeks before finding out about the HIV infection, the couple found out Cookie was pregnant. So there were fears about the health of the fetus and the mother as well.
ADVERTISEMENT
Article continues below this ad
WATCH THIS STORY – Luka Doncic surpasses Lakers legend Magic Johnson second only to Oscar Robertson in iconic NBA record
Fortunately, Cookie and the fetus were not infected. So that brought a huge sigh of relief to the family. A few months later, Cookie gave birth to a healthy child.