'We Haven't Seen That': Lakers Legend Jerry West Chooses Michael Jordan as the GOAT
Published 04/25/2021, 1:21 AM EDT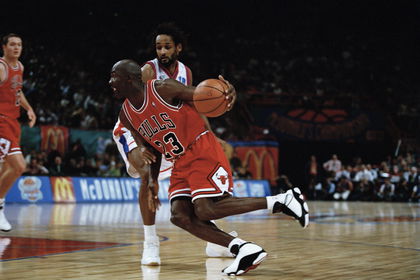 ---
---
In Rafael Nadal's autobiography, Rafa, he has clearly mentioned how his competitiveness would extend beyond the Tennis court to the golf greens. Michael Jordan, however, holds the unofficial copyright to this competitive mentality that his documentary, The Last Dance, perfectly captured.
ADVERTISEMENT
Article continues below this ad
MJ was incredibly hard on his rivals when it came to them taking away the limelight. He would sell himself false narratives to build anger against those names and later perform like a madman on the court.
A strategy, completely unheard of, took the league by storm and placed Jordan on the pedestals of the league.
ADVERTISEMENT
Article continues below this ad
Jerry West spoke proudly about the uniqueness of Michael Jordan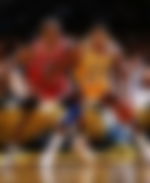 Mr. Clutch and the current silhouette of the NBA logo, Sir Jerry West, played 14 seasons for the Lakers. He retired a decade before Michael Jordan made his debut with the Chicago Bulls.
Still, his old eyes saw the brimming youngster in MJ with a sparkle in his iris and a certainty in his heart that the boy from Brooklyn would do wonders. Air Jordan did not disappoint the Hall of Famer and made Jerry one of his biggest backers.
In an interview, the 82-YO personality spoke highly of MJ's mental edge and proudly expressed, "I know Michael pretty well and we've talked about things like that. But, I don't think there's any question that if you're a great great player, and certainly I'm not sure we've seen a player like him in my lifetime. Because his impressive play on both ends of the court. He was arguably, well I don't think arguably, he was the best offensive player and the best defensive player in the league, we haven't seen that. But the competitive nature of Michael was just unique."
He was discussing the times when the Bulls legend would go any length to spark his anger.
Read Also – 'He's By Himself' – Jamal Crawford Pays Tribute to Michael Jordan and 'The Last Dance' on One-Year Anniversary
An incident that proved MJ was the king of revenge
Back in 1993, the year Michael Jordan completed his first three-peat in front of his father, the Bulls had a regular-season tie against the Washington Bullets. In that game, a largely unknown player in LaBradford Smith scored 37 points to MJ's 25. Although the Bulls won that night, his highness did not like getting outscored.
As per Jordan, Smith came to him after the game, put his hands over his shoulders, and whispered, "Nice game, Mike." This was enough for the angry Jordan to come back strongly and drop 47 points (36 in the first half) in an away game to Washington. 
ADVERTISEMENT
Article continues below this ad
Years later, in an interview, MJ confessed that he made that story up just so that he had enough anger to retaliate. Such acts of insanity kept his opponents weak on their knees and almost helpless.
There have also been instances when someone winning the MVP award aggravated the competitiveness in Jordan. Just as Jerry West further briefed, "If there was someone that was sort of a challenge to him, in terms of talking about the best player in the league, he was going to prove that it wasn't the case. Also, he was going to lead his team. He was just a fierce competitor, but physically, I'm not sure we've seen a package like that. The lateral quickness, the vertical, the running, gigantic hands, being able to do things in the air that we've seen very rarely… haven't seen anyone do like him."
ADVERTISEMENT
Article continues below this ad