Weeks After Claiming Michael Jordan Beef Isn't Over, Isiah Thomas Makes Outlandish Confession on Treating Him Like Family: "My Nephew.."
Published 12/21/2022, 1:10 PM EST

Follow Us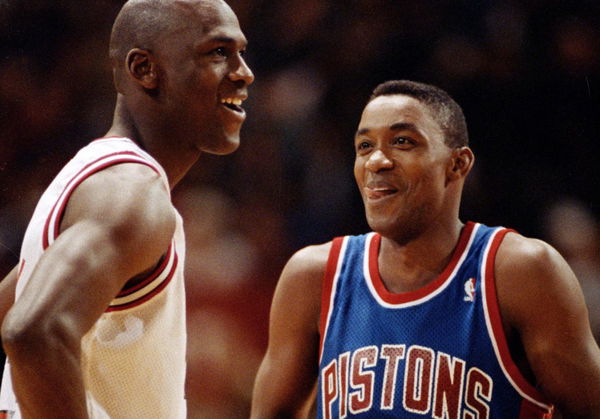 Among the many rivals Michael Jordan had during his time in the NBA, Detroit Pistons legend Isiah Thomas is certainly the one who has the longest-running beef with him. During a recent podcast, Thomas revealed his thoughts about MJ. It seems the two still aren't over their rivalry from their playing days in the NBA. Interestingly enough, Thomas also revealed how his family is connected to Jordan.
It seems Thomas' nephew had a liking for the NBA legend as he actually lived with MJ! As said by Isiah Thomas himself, his family took care of the Chicago Bulls legend. Moreover, in the same interview, he talked about how his family helped Jordan settle in the city of Chicago.
Isiah Thomas reveals shocking details about his relationship with Michael Jordan
ADVERTISEMENT
Article continues below this ad
It is no secret that Isiah Thomas and Michael Jordan are not the best friends in NBA. The Detroit Pistons and the Chicago Bulls shared a heated rivalry in their playing days, and it is only natural that the two best players share a rivalry.  
Thomas' and Jordan's rivalry spilled beyond their various encounters on the court. During an appearance on The Pivot Podcast, the Detroit Pistons legend revealed how the two still haven't mended their relationship. Interestingly enough, Zeke's family had an important role in helping Jordan settle in the city of Chicago.
Thomas said, "My family took care of him, my sister and his brother hung out as friends. My lil nephew lived with Michael Jordan! I'mma say this again, my lil nephew lived with Michael Jordan. Now, I'm being extremely good to this dude, I'm calling his house, during this point of time."
During that process, Jordan ended up pushing people away from him and it seems Isiah Thomas and his family were among them as well. A few weeks ago, Thomas made headlines when he talked about how he still shares a rivalry with Jordan after seeing his portrayal on 'The Last Dance'.
Thomas called Jordan an a**hole
Isiah Thomas is certainly not a fan of 'The Last Dance'. The documentary features the title-winning season of the Chicago Bulls in 1998 and shows various instances of just Jordan being Jordan.
ADVERTISEMENT
Article continues below this ad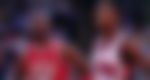 This didn't sit right with Thomas. During the same podcast, he said, "Here's why I was upset of watching a documentary of a guy being an a*****e to everybody."
Additionally, he asserted that people wrongly accuse him of bad behavior when, in reality, he is the one who was always nice to the six-time NBA champion. With their beef spanning decades, it doesn't seem that they will come to terms anytime soon.
ADVERTISEMENT
Article continues below this ad
WATCH THIS STORY: The next Michael Jordan from Kobe Bryant to Lebron James NBA stars who were labeled as the next MJ news
What is your favorite moment of Michael Jordan? Let us know in the comments down below.
Edited By: Pritam Priyedarshi