'Welcome Kareem Abdul-Drummond': Skip Bayless Mocks Lakers' President and Andre Drummond
Published 04/02/2021, 12:00 AM EDT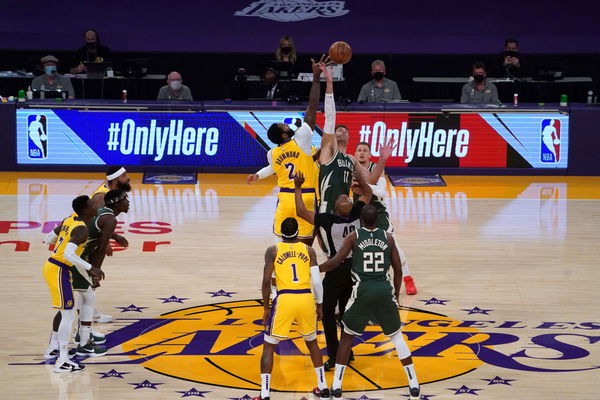 ---
---
Just as the Los Angeles Lakers had gotten back on track to getting victories in the absence of LeBron James and Anthony Davis, Giannis Antetokounmpo of the Milwaukee Bucks came right in and ended their winning streak. The Bucks defeated the Lakers 112-97. However, the more disappointing aspect of the loss was their new addition's debut performance.
ADVERTISEMENT
Article continues below this ad
In fact, NBA Analyst Skip Bayless took this as another opportunity to take shots at the Lakers, and Drummond got caught in the crossfire.
While there was so much hype around Andre Drummond and teams wanting to nab him, the Lakers were the lucky ones to do so. But it looks like Drummond did not live up to the expectations.
ADVERTISEMENT
Article continues below this ad
He left the game in under 15 minutes with a toe injury and did not return. Thus, he ended the night with a meagre 4 points, 2 assists, and 1 rebound.
When the 2021-22 season began, the Lakers were the clear favorites to grab a repeat. However, the NBA doesn't work like that. Injuries and opponents forming super teams came in the way.
Drummond was the player who was expected to fix all the problems for them. Or, at least hold the fort until Anthony Davis and LeBron James make their return, but that didn't happen. So, did Drummond get the attention he did not deserve?
Skip Bayless mocks Lakers president
After the game, the purple and gold fans were left disappointed that Drummond could not play longer. Hence, Skip, who is known for finding ways to ridicule the Lakers, did just that.
"Welcome Kareem Abdul-Drummond, Laker saviour!" Bayless started off. "And allow me to say how sorry I feel for this still young man. Because he's been thrust into a spotlight he does not deserve at this point in his career because he's done nothing to deserve Laker saviour status."
Then, he criticized Jeanie Buss for comparing the 27-year-old Drummond to legendary Lakers' center Kareem Abdul-Jabbar. He said, "And I still say the audacity of Jeanie Buss, and I like Jeanie, but she went completely over the line to post social media pictures comparing her greeting Andre Drummond to her father the great late Dr Jerry Buss and he was welcoming one Kareem Abdul-Jabbar."
ADVERTISEMENT
Article continues below this ad
Holding a 30-18 record, the Lakers are placed on the fourth spot in the Western Conference. With less than 25 games left for the regular season to end, the remainder of their roster needs to step up.
ADVERTISEMENT
Article continues below this ad
Also, Drummond could become an asset to the Lakers. But there is no way he should be compared to 19-time All-star, Kareem.
Read also- 'Can't Guard Giannis': Bucks Troll Lakers' Andre Drummond and Anthony Davis During Blowout Win