"Welcome Steph to That Kobe/Duncan Club": Kyle Kuzma, Trae Young and Other NBA Stars React to Stephen Curry's Heroics as Warriors Conquer the Celtics
Published 06/17/2022, 2:30 PM EDT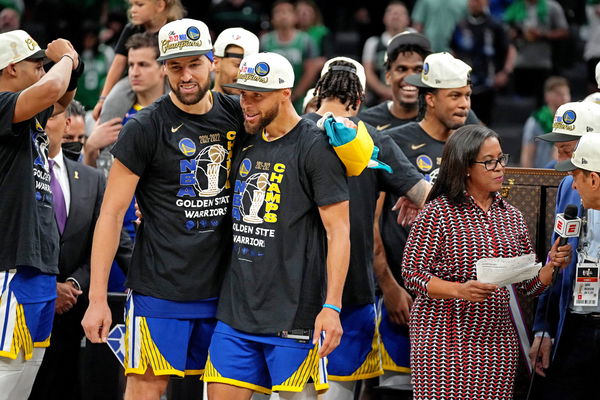 Stephen Curry's Golden State Warriors wrapped up the Finals series in six games as they defeated the Boston Celtics 103-90 in front of a raucous Boston crowd. Curry finally rounded off his achievements with a Finals MVP. Wiggins and Poole emerged as players to watch out for in the future while Draymond Green, surprisingly, came up clutch.
ADVERTISEMENT
Article continues below this ad
Hence, the Warriors dynasty has again gained a second wind. It is to be seen what they will do in the future but for now, Curry and co. will celebrate this title with full gusto. For the last three years, they had to face pitfalls after pitfalls.
Whether it was Klay Thompson being effectively ruled out for almost three years or Curry's intermittent injuries, they didn't catch a break for a long time. The Warriors were dead last after the 2019-20 season and couldn't qualify for the playoffs after the 2020-21 season. The Wiggins trade was looking more farcical than ever but, their comeback this year was thrilling to see.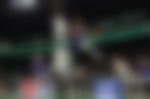 Some players have congratulated Golden State on their magnificent win. They have recognized how hard the road was for them in the last three years. Here are some of the reactions.
Don't talk about Steph again unless it's in a convo with the time great PLAYERS!! And i mean a hand full of people to ever touch a basketball.

— Seth Curry (@sdotcurry) June 17, 2022
Damn.. I wanna win championships so bad !

— Trae Young (@TheTraeYoung) June 17, 2022
Now I have to talk about how I was wrong on picking the Celtics to win it on national television 😂 congrats. Brotha . Well deserved. I'll get my ring soon @Money23Green

— CJ McCollum (@CJMcCollum) June 17, 2022
Welcome Steph to that Kobe/Duncan club of the 2000's!

— kuz (@kylekuzma) June 17, 2022
King Curry is helping reshuffle that all time list huh..

— 🏁 Jamal Crawford (@JCrossover) June 17, 2022
Stephen Curry's Warriors seal the NBA title in Game 6
Chef Stephen Curry's Golden State Warriors have won their fourth championship in eight seasons. This is the Warriors' first championship since the 2018 postseason, and it marks a return to form for Curry, Klay Thompson, and Draymond Green. Jordan Poole, another member of the Splash Brothers, enjoyed a breakout season. Andrew Wiggins, of all people, demonstrated why he is such an important player for the Warriors.
ADVERTISEMENT
Article continues below this ad
This contest demonstrated why the Warriors have won so many championships. Stephen Curry finished with 34 points, seven assists, and seven rebounds. He hit six out of eleven targets from a distance. After that series-ending performance, he deserved to be named Finals MVP.
Wiggins also scored 18 points and has proven to be a valuable member of the team. Draymond Green had the best +/- of +16 among all his teammates. He scored 12 points, 12 rebounds, 8 assists, 2 steals, and 2 blocks.
ADVERTISEMENT
Article continues below this ad
Watch this Story: Stephen curry best final performances
In the end, the Warriors will be the ones to receive all of the honors. Nobody expected the Warriors to return this season, but they did, reaching the pinnacle and doing the seemingly impossible.