'We're a Playoff Team': Stephen Curry Assures Shaq That They Are Good Even Without Klay Thompson
Published 12/22/2020, 10:01 PM EST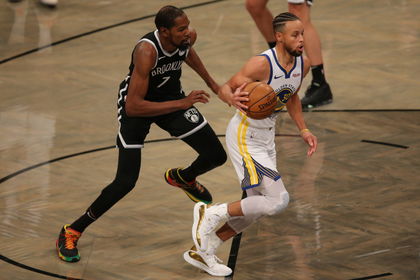 ---
---
The Warriors did not enjoy a Golden start against the Brooklyn Nets. They lost the game 99-125, allowing the Nets to stay ahead right from the tipoff. But this doesn't worry a pumped up Stephen Curry.
ADVERTISEMENT
Article continues below this ad
Prior to the game's start, it was a nostalgic moment to see Kevin Durant and Steph greeting each other with a warm hug. This was also the calm before the storm that would soon blow the Warriors away. But this game was just the season opener; the Golden State men have 71 more games to prove their mettle.
ADVERTISEMENT
Article continues below this ad
Stephen Curry is positive about his team's playoff berth
Before the Warriors vs Nets game, Steph Curry stopped by to exchange a few words with Shaq and Charles Barkley on TNT's pre-game show. He sounded extremely positive ahead of the opener as he exclaimed, "We know what the experts are saying… where people kind of see us in the Western Conference. But for us, it's gotta be a situation that no matter how this season starts to understand we're gonna get better, you know every single game, every single week. I mean, we obviously wanna be a playoff team. And once we get in there, we know we'll be a tough out. So the beauty of it is every game is important."
The 32-YO knows it well that they're not the same team that enjoyed the 5-year dominant run. Today, they are a new team in many aspects and it will take them time to get their act together. As if he knew that beating the Nets in the opener would be tough, Curry added, "Win or lose, every game is an opportunity to learn, bring the young guys along. And I think we understand that, so we feel like we're a playoff team and we're gonna get there. This is gonna be a fun 72-game journey."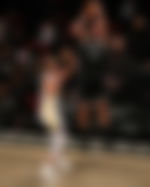 Klay's message and GSW's lackluster performance
ADVERTISEMENT
Article continues below this ad
The injured Klay Thompson took to Instagram to drop an emotional post before the game. He expressed in the post how much he hated not being on the playing roster and that he was doing everything in his capacity to make a quick comeback.
The Warriors seemed to struggle with chemistry. This was understandable because they were playing an NBA game after nine months and that too with a whole new team. The only good takeaway from the match was Steph's double-double with points and assists. He had also said earlier that being an underdog was "part of [his] DNA". 
ADVERTISEMENT
Article continues below this ad
Rookie James Wiseman dropped 19 points, 6 boards, and 2 steals in his career's first NBA game. So one can assume that the Warriors will soon pick up the lost rhythm.