'We're Not Done Yet': Bucks' Giannis Antetokounmpo Sends Out a Message After Dominant Win Over the LA Clippers
Published 03/01/2021, 12:30 PM EST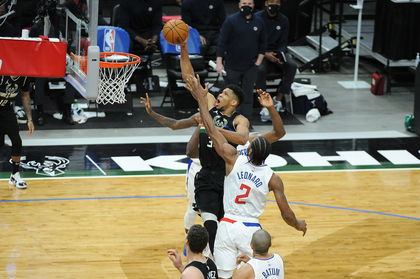 ---
---
The Milwaukee Bucks have been an inspiring team in the league. Giannis Antetokounmpo is the man leading from the front, and he's been in sensational form over the last few games. Giannis had a message for his teammates and critics after the Bucks' thrilling victory against the LA Clippers. 
ADVERTISEMENT
Article continues below this ad
Not long ago, the Bucks were enduring a slump and had lost five games in a row. The team was in shambles, but Giannis Antetokounmpo rose up from the ashes to get them back on a winning track. 
Coming back from five straight losses and posting five straight wins is no easy task. It requires tremendous self-confidence and a team should have a proper locker room leader, and in the Bucks' case, it was Giannis Antetokounmpo.
ADVERTISEMENT
Article continues below this ad
With their 105-100 win against the Clippers on Sunday, the Bucks silenced their critics at it was their fifth straight win. Giannis sealed the deal with a thundering dunk and was overcome with emotions on the court. 
Giannis Antetokounmpo sends out a message to all Milwaukee Bucks fans
Giannis has been leading the Bucks for the past few seasons, and there are massive expectations placed on him. Hence, when things go south, it is his duty to keep his teammates calm and instill belief. 
"We cannot go to the end of the season to the playoffs and lose two or three in a row and then get to that panic mode again. We got to be able to lose… and be able to get out of it snap out of it," Giannis mentioned in the post-game press conference.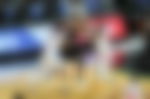 The Bucks' All-Star forward mentioned the importance of self-belief, especially when things don't end up your way. Moreover, persistence always pays off, and Giannis Antetokounmpo wants to keep grinding hard. 
ADVERTISEMENT
Article continues below this ad
"It's not over, it's not, we're not done yet… Even when you're up, even when you're down, you have to keep learning, and there's no panic here, there's no panic. Keep creating good habits, keep playing good basketball, and you just gotta hope that it's all gonna work out," the two-time MVP mentioned. 
Giannis has been incredibly resilient through the Bucks' slump and has been performing spectacularly on individual terms. He averaged 33.5 PPG, 13.4 RPG, and 6.6 APG in the Bucks' last 10 games and inspired his teammates as well.
ADVERTISEMENT
Article continues below this ad