What Does LaMelo Ball's Injury Mean for the Charlotte Hornets?
Published 03/22/2021, 6:30 AM EDT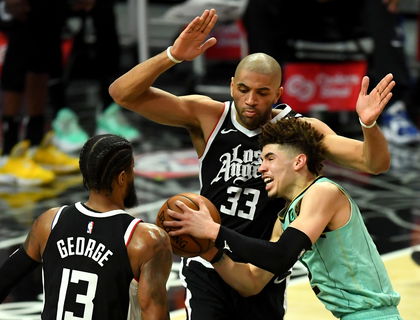 ---
---
Ever since the Charlotte Bobcats became the Hornets, they've qualified for the postseason just once. Last year, they hit a new low by going 23-42, but that helped them draft the extremely talented LaMelo Ball as the third pick in NBA Drafts 2020. But as fate would have it, the gods of basketball showed their wrath and inflicted an injury scare upon the rookie.
ADVERTISEMENT
Article continues below this ad
In the Hornets' 98-125 loss against the Clippers, they lost more than just their chance to reach #7 in the EC rankings. With a 20-21 record, they now have an injured LaMelo Ball and a huge question mark on his comeback.
What can losing LaMelo Ball mean to the Hornets?
ADVERTISEMENT
Article continues below this ad
With five minutes remaining in Q3, the Hornets were trailing by 29 points when LaMelo Ball had to step out. He took a bad fall and fractured his right wrist in the process. The update is as scary as it sounds and he might miss the entire season from hereon to recover from the injury. 
Breaking: LaMelo Ball is expected to miss the rest of the season with a fractured right wrist, a source told @wojespn.

He's seeking a second opinion to confirm the diagnosis. pic.twitter.com/zKbQnX1rA3

— SportsCenter (@SportsCenter) March 22, 2021
The Rookie of the Year frontrunner was averaging 15.9 points, 5.9 boards, 6.1 assists, and 1.6 steals in the current season. His figures have outmatched every other rookie's this season, and it was almost natural for him to win the ROY 2021. It is unfortunate he now has to deal with something that stripped Zion Williamson of his contention last year. 
Now, the Hornets, who are already on a three-game losing streak, have a very tough future without their elite playmaker. Melo's exit would mean more pressure on the shoulders of forward Gordon Hayward and guard Terry Rozier. LaMelo had only begun to start for the Hornets from the last 21 games, and he was increasingly proving his worth when this injury sidelined him. In his absence, the onus will also be on Devonté Graham to breathe life into his form from last year and increase his contribution.
Read also – LaMelo Ball Injury Update: What is the Hornets Star Suffering From and How Long is he Out?
How Melo had contributed to a shift in the Hornets' culture
LaMelo Ball entered the season as an extremely famous player who had some great high-school numbers that were worthy of respect. Moreover, he has a father that never shies away from blowing the trumpet for all of his sons. So it was only natural for Melo to come in and join the starters.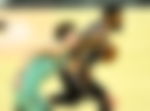 However, James Borrego did not allow the popular opinion on how the Hornets function to change and kept playing LaMelo from the bench, awarding him no more than approximately twenty-two minutes per game.
ADVERTISEMENT
Article continues below this ad
This strategy was harming LaMelo's numbers and also his chances of becoming the ROY 2021. But fortunately, he began starting from the beginning of February and since then improved his figures. He showed that he can be trusted both as a role-player and a leader that can swap positions with Gordon Hayward. Plus, he also bettered himself as an absolute playmaker. His court vision helped the Hornets enter the Top 8 and get stable. 
Having said that, he surely has to grow bigger muscles if he wants to improve his defensive skills. Moreover, his clutch play is yet to improve and all these things add up to show how LaMelo would need more time to get to his best self.
ADVERTISEMENT
Article continues below this ad
But this sudden injury took that time away from him while also cutting a passer from the Hornets. Now, MJ's team is back to square one with the same old unit that failed the previous year. Can they now stand tall and keep the teams like Chicago Bulls from dragging them out of the Top 8? It is highly doubtful now. What do you think, can the Hornets survive without Ball?