What Does the Atlanta Hawks' Starting Lineup Look Like for the 2021-2022 Season?
Published 08/30/2021, 3:36 AM EDT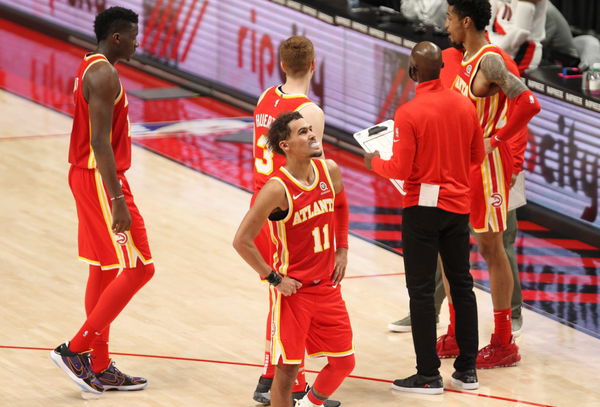 ---
---
The Atlanta Hawks started the 2020-21 season boasting a decent depth. They had multiple options to play for every position, and that took them as far as the ECF. In fact, they were just a healthy Trae Young away from making it to their first NBA Finals in 60 years.
ADVERTISEMENT
Article continues below this ad
While they were already a rotation-ready roster, the Hawks organization has thrown more into their mix. Although they've lost Lou Williams and Kris Dunn, the management has covered those voids with names like Gorgui Dieng, Delon Wright, Johnny Hamilton, and some rookies. 
ADVERTISEMENT
Article continues below this ad
Atlanta Hawks starting five:
#20 John Collins (Power Forward)
Over a period of time, John Collins has developed into a trustworthy shooter. He adds versatility to the lineup and his camaraderie with Trae Young is always eye candy to watch. If this tandem can continue the way they did in the last season, the Hawks surely have good days upcoming.
#3 Kevin Huerter (Small Forward)
Another offensive gun, Kevin Huerter, is a great wing shooter, and he proved his worth in his career's first playoff. The youngster averaged 11.1 points in 18 games and kept his effective field goal percentage at the north of 50%. Although the coaches do not trust him as a starter throughout the 82 games, he has the caliber to achieve that feat this season.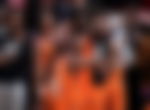 #15 Clint Capela (Center)
Promising a smooth penetration and elite pick-and-rolls, center Clint Capela is an elite centerpiece. He has formerly developed himself around the talents like James Harden & Chris Paul. Plus, his defensive rebounding is top notch and the reach he promises is a huge help to the Hawks.
#11 Trae Young (Point Guard)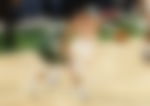 Ice Trae is certainly the best talent sitting inside the capital city of Atlanta. He is hands down one of the best point guards active in the NBA. If someone can average close to 29 ppg in his career's first postseason, that person has tons to achieve. If only Trae can work more on his declining three-point accuracy, he can find his name alongside Damian Lillard and other greats.
ADVERTISEMENT
Article continues below this ad
#13 Bogdan Bogdanovic (Shooting Guard)
Bogdan is perhaps the best name Atlanta added to its roster in 2020. Although he is a very consistent performer who keeps himself healthy, if need be, Delon Wright can back him up as another starting option.
ADVERTISEMENT
Article continues below this ad
So what's your take, can this lineup repeat the recent history and even better the same in 2021-22? Help us learn your views in the comments section below.
Watch this story – Clint Capela's Behind the Board Bucket, Giannis Antetokounmpo's Dunks, and Other Highlights from ECF Game 4