What does the Los Angeles Lakers Starting Lineup Look Like For The 2021-22 Season?
Published 08/09/2021, 1:40 AM EDT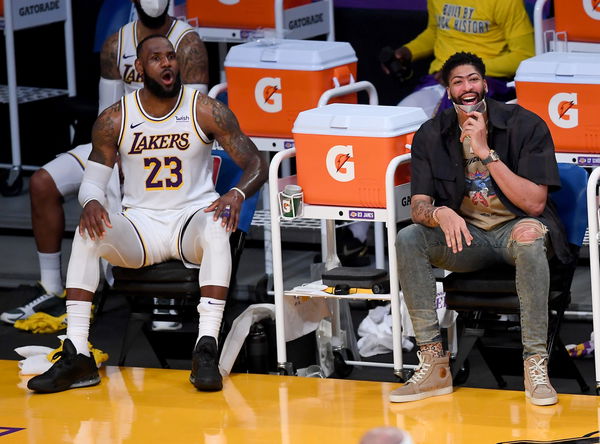 ---
---
The Lakers of 2021-22 are on paper the best squad in the Western Conference and very few can deny this. Jeanie Buss's desperation to reestablish the "rise of an empire" is clearly visible and this off-season is running parallel with her intentions. 
ADVERTISEMENT
Article continues below this ad
It all started with the spectacular move that saw Russell Westbrook joining the Lake Show. Rob Pelinka knew how Kyle Kuzma was turning into a liability and his front office wanted a quick escape by swapping him & others to acquire an asset. That trade set the ball rolling as the Lakers completely transformed in a matter of a week.
ADVERTISEMENT
Article continues below this ad
Los Angeles Lakers starting line-up
Now, with so many big names in the Lakers' roster, it can be tricky for coach Frank Vogel to affix his starting five. Well, one can hope that the coach will take his time and make a few rotations in the center position. However, the frontcourt and backcourt names are mostly going to remain the same unless anyone gets injured. With that, look at the starting five of the Lakers.
Frontcourt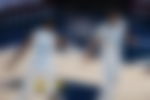 LeBron James (Small Forward)
LeBron faced extreme troubles with his right ankle throughout the 2020-21 season. Now, after finally getting enough rest, chances are that he'll come back to his 100% potential for the upcoming season. His reliance on long-range shooting and distribution can become a positive for the Lake Show, given that they now have more scoring options. Yet, a double-double averaging season (just like 2019-20) is again high on the expectations.
Anthony Davis (Power Forward)
Many NBA pundits count AD as the top-five power forwards in the league, and rightly so. The Brow shares great chemistry with Bron and is a two-way player like none other. His ability to block the shots and then run back to convert a dunk is extraordinary. A healthy AD can be a nightmare for any unit.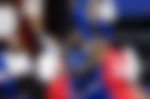 Marc Gasol (Center)
Marc Gasol joined the Lakers only last year and started 42 games for them. However, after Andre Drummond arrived, the 36-year-old saw a cut in his average minutes and suddenly became a bench player. His 5 ppg did not help the Lakers as much as his signing promised and hence his consistency will be under the scanner. Chances will be that coach Vogel will try Dwight Howard now and then to see how it goes for a change.
Backcourt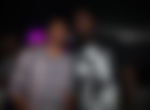 Russell Westbrook (Point Guard)
ADVERTISEMENT
Article continues below this ad
All eyes will be on #0 Russell Westbrook as he would play for his hometown and also for his first NBA title. Just imagine Nets vs Lakers where Russ is dominating over James Harden & Kevin Durant while LeBron takes care of Kyrie Irving. As juicy as it sounds, Russ will solve the point guard troubles for LA to a big extent.
Wayne Ellington (Shooting guard)
The Man with the Golden Arm will play for the Lake Show after seven years and expectations will be for him to deliver. He is going to be the Lakers' catch-and-shoot option and hence one can expect a lot of clutch minutes for him. 
ADVERTISEMENT
Article continues below this ad
So what do you think, is this the best starting lineup in the NBA? Help us know in the comments section below.
Watch this story – Kobe Bryant, LeBron James, and Other Lakers Stars Who Changed Their Jerseys Multiple Times