What Does The Milwaukee Bucks Starting Lineup Look Like for the 2021-22 Season ?
Published 08/11/2021, 1:30 AM EDT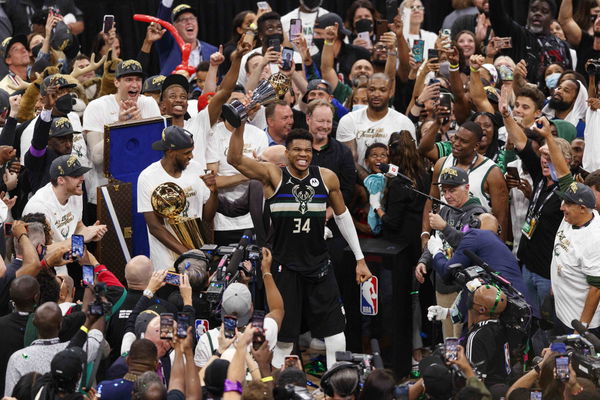 After winning an NBA championship 50 years later, the Milwaukee Bucks' offseason was under a magnifying glass. Everyone wanted to see what they would pull off to keep their dominance in the league intact for another straight season. Unfortunately, with Jrue Holiday, Khris Middleton, Giannis Antetokounmpo, and Brook Lopez, their superstar locked in for the foreseeable future, the team did not have much money to spend.
However, Jon Horst always finds a way to pull of some tricks. Even though none of their deals broke the news or fans went crazy about it, they made some compelling and solid moves. So, here's how the reigning champions upgraded their roster for the 2021-22 season.
Incoming players
ADVERTISEMENT
Article continues below this ad
Sources: 13-year NBA vet George Hill has cleared free agency waivers and now will sign a two-year, $8M deal with Milwaukee. https://t.co/BEJG1llOea

— Shams Charania (@ShamsCharania) August 5, 2021
George Hill was able to sign a two-year deal with his former team. He played for Milwaukee Bucks for two seasons before but has now come from the Philadelphia 76ers to be the backup point guard they so desperately needed. He can be another ball-handler that they can rely on and the 35-year-old is well aware of Mike Budenholzer's leadership, so fitting in won't be a problem either.
Free agent Bobby Portis has agreed to a two-year, $9 million deal to return to the Milwaukee Bucks, with a second year player option, sources tell @TheAthletic @Stadium.

— Shams Charania (@ShamsCharania) August 2, 2021
Resigning Bobby Portis was at the top of their list this offseason, and the Bucks did it rather quickly and smoothly. He played a vital role in their journey to the title, thanks to his rebounding and scoring abilities. Without him, the second unit would have gone on a downward spiral, and replacing him did not seem like a viable option.
Grayson Allen
Rodney Hood
Sandro Mamukelashvili
Semi Ojeleye
WATCH THIS STORY: Giannis Antetokounmpo's Free Throws From the Bus, P.J. Tucker's Speech & Other Top Moments From Milwaukee Bucks Championship Parade
Outgoing players
Other than adding some good players, the Bucks have parted ways with other key players, one of them being P. J. Tucker. This definitely came as a surprise because, after winning a title, he seemed like one of the first few players to return to the team. Instead, he ended up moving to the Miami Heat. His defense and toughness on the court will be something the Bucks will dearly miss.
This is something almost everyone was expected. However, his initial shooting skills could not make up for his defensive deficiencies. Even though the Bucks could have re-signed him but they were tied down by their cap size.
Thanasis Antetokounmpo
Justin Jackson
Sam Merrill- Memphis Grizzlies
Jeff Teague
Axel Toupane
ADVERTISEMENT
Article continues below this ad
Milwaukee Bucks starting lineup 2021-22
With no big deals, their starting five might stay the same-
Giannis Antetokounmpo
Jrue Holiday
Khris Middleton
Pat Connaughton
Brook Lopez
ADVERTISEMENT
Article continues below this ad
With only mild changes, will the Bucks be able to put up with teams next season once again? Or will they again be the target of accusations that unfit players in other teams helped them prevail over them? Time to prove is not over and the Bucks will want to return even better to clear all these doubts surrounding their potential.